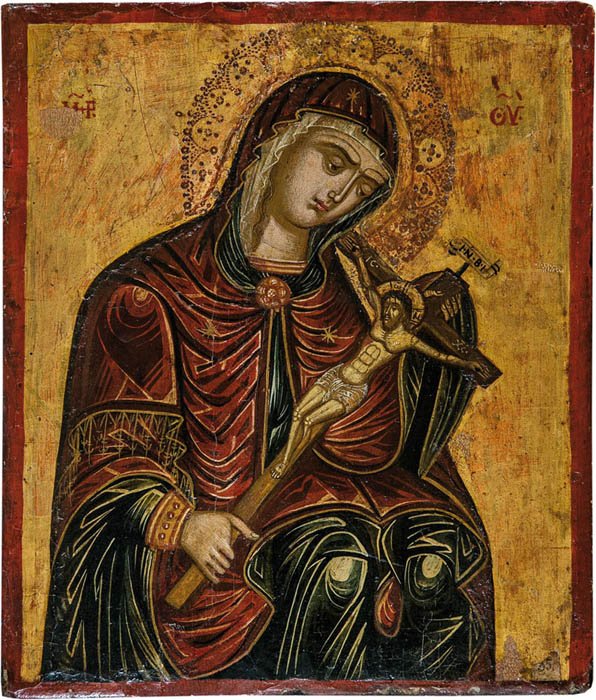 Lady Achtyrskaja (of Akhtyrka), Veneto-Cretan, 17th century. Hardwood single panel, back tiling. Tempera on chalk ground, background gilded, Nimbus hallmarked ornamental. Image-filling representation of the seated Virgin in three-quarter figure,
holding
the crucifix with the crucified Christ in her hands. About her green tunic she wears the red maphorion which is contoured by white and black shades.
a western-style transparent head-cover complimented by the traditional maphorion. The halo is finely tooled.
29.5 x 25.5 cm
Okhtyrka, also known by its Russian variant Akhtyrka, is a small city in Ukraine, a town of Hussar and Cossack Fame. It was also once a regional seat of Sloboda Ukraine and the Ukrainian SSR. It is home to historical and religious places of interest. More
In the town of Akhtyrka, there had long been a parish dedicated to the Protection of the Most-pure Theotokos (The Virgin Mary). In 1739, Fr. Daniel Vasiliev was serving at that church. Once, as he was mowing the grass in his garden he saw an icon of the Mother of God praying before the crucified Lord Jesus Christ, and shining with an indescribable light. In awe, Fr. Daniel carried it into his house. Three years later, while dozing, he dreamt of the Mother of God, and heard her direct that he wash the icon with clean water, and then drape a cover over the icon. The priest did as he was told, intending to later pour the water into the river, he put the water into a container. He again fell asleep, whereby the Most-holy Theotokos said to him: "Keep this water; it will heal all those who suffer from the fever." The priest had a daughter who suffered with fever. Awaking, he gave her some of the water to drink, and she immediately was healed.
Thereafter, all those who suffered with fever would run to the Most-holy Theotokos, and as soon as they drank of the water from her icon, would be healed. Recognizing the miraculous signs coming from the icon, the priest took it to his parish church. There the icon shone forth with the power of working miracles.
One noteworthy miracle was to Elizabeth, the ill wife of General Vedel, who came and fervently prayed before the icon that she might be healed. The next night she saw the Mother of God in a dream, and heard her direction: "You ask in vain for healing from illness. You do not need that. You will soon depart from life. Give all of your possessions to the churches and to the poor. That sacrifice will be for the good of your soul." The ill one answered, "O Mother of God, I have children, and if I give away my estate, my children will be left in extreme poverty and need." In response, the Mother of God said, "Do not be concerned for your children. I will be their eternal protectress." Then, the Mother of God became invisible. Elizabeth, five days later, as told to her by the Mother of God, peacefully reposed. Empress Catherine II, learning of the miraculous protection promised to the children of the late Mrs. Vedel, took her two daughters into her care, and later gave them in marriage, one to Count Palen, the other to Count Chernishev. This miraculous icon used to be in the cathedral church of the town of Akhtyrka, Kharkov province. More