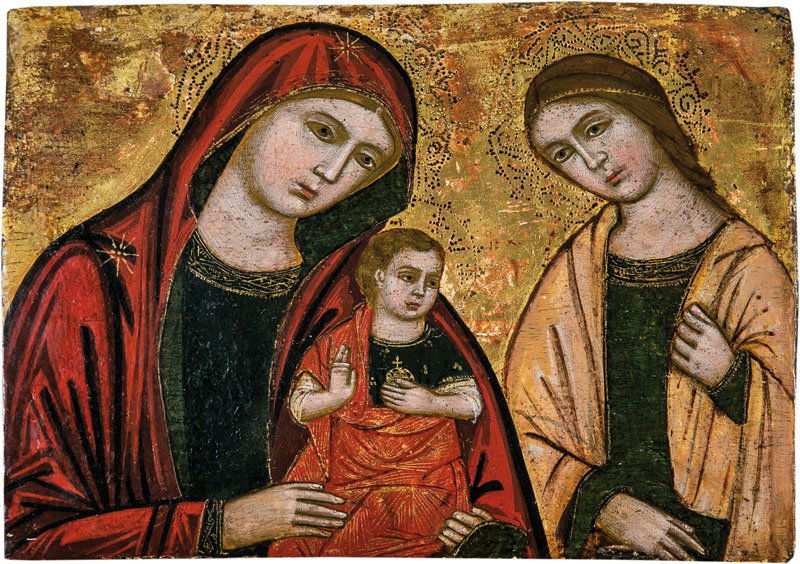 Madre della Consolazione, Veneto-Cretan, 17th century. Mother of Consolation
Veneto-Cretan,
wooden single panel. Tempera on chalk ground, background gilded. Image-filling representation of the half-length Mother of God;
depicted half-length wearing a blue tunic and a brown maphorion.
. She holds the Christ Child in her left arm. He has raised his right hand in blessing and holds with his left the globe. His himation is decorated with a gold-Chrysographie. Next to them, the Saint Catherine appears. , Embossed haloes. Color losses. 16.5 x 23 cm
The earliest story tells of Saint Monica in the fourth century, distraught with grief and anxiety for her wayward son, Augustine, confiding her distress to the Mother of God, who appeared to her dressed in mourning clothes, but wearing a shining cincture around her waist. As a pledge of her support and compassion, Our Lady removed the cincture and, giving it to Monica, directed her to wear it and to encourage others to do the same. Monica gave it to her son, who in turn gave it to his community, and so the Augustinian devotion to the wearing of a cincture as a token of fidelity to our Mother of Consolation came into being.
The tradition of praying to the Mother of God for the gift of consolation dates back to the early centuries. The first written evidence of prayer to the Mother of God, Mary, the Theotokos (

"Birth-Giver of God"

)

,
is written in Greek on a scrap of Egyptian papyrus dating from between 300-540. In that prayer, she is invoked as the compassionate one
More
Saint Monica (AD 331 – 387), also known as Monica of Hippo, was an early Christian saint and the mother of St. Augustine of Hippo. She is remembered and honored in most Christian denominations for her outstanding Christian virtues, particularly the suffering caused by her husband's adultery, and her prayerful life dedicated to the reformation of her son, who wrote extensively of her pious acts and life with her in his Confessions. Popular Christian legends recall Saint Monica weeping every night for her son Augustine.
Saint Catherine of Alexandria, according to tradition, a Christian saint and virgin, who was martyred in the early 4th century at the hands of the pagan emperor Maxentius. According to her hagiography, she was both a princess and a noted scholar, who became a Christian around the age of fourteen, and converted hundreds of people to Christianity. She was martyred around the age of 18. Over 1,100 years following her martyrdom, St. Joan of Arc identified Catherine as one of the Saints who appeared to her and counselled her. More
Cretan School describes an important school of icon painting, which flourished while Crete was under Venetian rule during the late Middle Ages, reaching its climax after the Fall of Constantinople, becoming the central force in Greek painting during the 15th, 16th and 17th centuries. The Cretan artists developed a particular style of painting under the influence of both Eastern and Western artistic traditions and movements; the most famous product of the school, El Greco, was the most successful of the many artists who tried to build a career in Western Europe, and also the one who left the Byzantine style farthest behind him in his later career. More