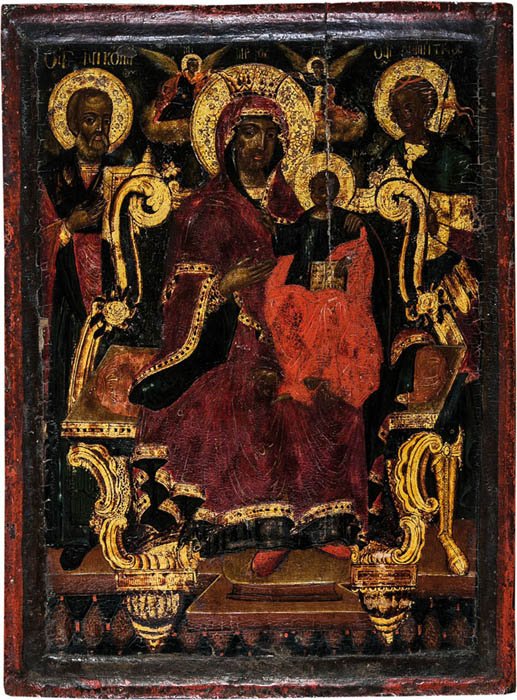 Enthroned Virgin Mary, Greece, 19th century. Wooden single panel. Double Kowtscheg. Tempera on gesso, gold plated. The Mother of God sits on a richly ornamented, gilded throne with the Christ Child on her lap. It is crowned by two angels. In the background St. Nicholas
and St. Demetrius
. 27.5 x 20.5 cm
The theme of the Madonna and Child was rare in the first centuries of early Christian art (c. 3rd–6th century). In 431, however, the establishment of Mary's title of Theotokos ("Mother of God") definitively affirmed the full deity of Christ. Thereafter, to emphasize this concept, an enthroned Madonna and Child were given a prominent place in monumental church decoration. More
Saint Nicholas (15 March 270 – 6 December 343), also called Nikolaos of Myra, was a historic 4th-century Christian saint and Greek Bishop of Myra, in modern-day Demre, Turkey). He had a reputation for secret gift-giving, such as putting coins in the shoes of those who left them out for him, a practice celebrated on his feast day―St Nicholas Day (6 December, and thus became the model for Santa Claus, whose modern name comes from the Dutch Sinterklaas, itself from a series of elisions and corruptions of the transliteration of "Saint Nikolaos". His reputation evolved among the faithful, as was common for early Christian saints. In 1087, part of his relics (about half of his bones) were furtively transported to Bari, in Apulia, Italy; for this reason, he is also known as Nikolaos of Bari. The remaining bones were taken to Venice in 1100.
Saint Nicholas is the patron saint of sailors, merchants, archers, repentant thieves, children, brewers, pawnbrokers and students in various cities and countries around Europe. More
Saint Demetrius of Thessaloniki is a Christian martyr of the early 4th century AD. During the Middle Ages, he came to be revered as one of the most important Orthodox military saints, often paired with Saint George. In the Roman Catholic church he is most commonly called "Demetrius of Sermium."
The earliest written accounts of his life were compiled in the 9th century, although there are earlier images of him, and the 7th-century Miracles of Saint Demetrius collection. According to these early accounts, Demetrius was born to pious Christian parents in Thessaloniki, Illyricum in 270. The biographies have Demetrius as a young man of senatorial family who was run through with spears in around 306 AD in Thessaloniki, during the Christian persecutions of Diocletian and Galerian.
St. Demetrius was initially depicted in icons and mosaics as a young man in patterned robes with the distinctive tablion of the senatorial class across his chest. Miraculous military interventions were attributed to him during several attacks on Thessaloniki, and he gradually became thought of as a soldier: a Constantinopolitan ivory of the late 10th century shows him as an infantry soldier (Metropolitan Museum of Art). But an icon of the late 11th century in Saint Catherine's Monastery on Mount Sinai shows him as before, still a civilian. More