Emile-Andre Boisseau (French, 1842-1923)
A Gilt Bronze and Ivory Figure
late 19th/early 20th century
A young woman in medieval dress who is reading a book, mounted on a circular marble base
signed in cast 'E.Boisseau'
Emile-André Boisseau, (1842 - 1923) was a French sculptor. A pupil of Auguste Dumont and Jean-Marie Bonnassieux at the École nationale supérieure des Beaux-Arts in Paris, h. His works include a statue of Pierre Beaumarchais on the facade of Paris' City Hall.
Ferdinand Preiss (German, 1892-1943)
'Salome Dancing'
Cold-Painted Bronze and Carved Ivory Figure, circa 1920
Modelled bare-chested, wearing a long flowing skirt, arm bangles and head-dress, one arm is out-stretched, raised on a rectangular green onyx base
32cm high, inscribed to base 'F.Preiss'
Johann Philipp Ferdinand Preiss (February 13, 1882 – July 29, 1943) was a German sculptor. He was one of the leading sculptors of the Art Deco period. He was born in Erbach im Odenwald and attended schools in Michelstadt. Both of his parents died within a short time span when he was 15 and shortly thereafter he was apprenticed to the ivory carver Philipp Willmann . In 1901 he traveled to Rome and Paris. He became a friend and acquaintance of Arthur Kassler in Baden-Baden, which led to the founding of the company Preiss & Kassler operating from Berlin. Kassler became the business-minded partner and Preiss controlled artistic production.
Initially the company created small ivory carvings of children and statuettes of classical form, often carved from old ivory billiard balls. From 1910 the firm grew to specialize in limited edition Art Deco cabinet sculptures that used painted bronze with ivory on plinths of onyx and marble, with an occasional foray into mantelpiece clocks and lampstands. He revolutionized the production of chryselephantine statues with his use of a dental drill for more precise and expeditious carving of the ivory. Preiss designed nearly all the firm's models and many of his most famous works depict modern, naturalistic 20th century women from the sports and theatrical world.
Ferdinand Preiss has sometimes been incorrectly called Fritz Preiss. His works, along with those of Demetre H. Chiparus, are regarded as the pinnacle of Art Deco sculpture and are greatly valued by modern collectors.
The firm closed with Preiss's death from a brain tumor on July 29, 1943. More
Henry Fugère (French, 1872-1944)
'Salome'
Gilt Bronze and Carved Ivory Figure
late 19th/early 20th century
signed 'Fugère' in cast with stamped no. 6097
Bare-chested with wind swept hair, her revealing dress with long flowing skirt and intricate belt, she balances on one leg, both hands held behind her head, raised on a stepped ebonised wooden base.
Salome (c. AD 14 – between 62 and 71) was the daughter of Herod II and Herodias. According to Flavius Josephus's Jewish Antiquities, Salome was first married to Philip the Tetrarch of Ituraea and Trakonitis. After Philip's death in 34 AD she married Aristobulus of Chalcis and became queen of Chalcis and Armenia Minor. They had three children. Three coins with portraits of Aristobulus and Salome have been found
Salome is often identified with the dancing woman from the New Testament, where, however, her name is not given. Christian traditions depict her as an icon of dangerous female seductiveness, notably in regard to the dance mentioned in the New Testament, which is thought to have had an erotic element to it, and in some later transformations it has further been iconized as the Dance of the Seven Veils. Other elements of Christian tradition concentrate on her lighthearted and cold foolishness that, according to the gospels, led to John the Baptist's death. More
Henry Fugère was born in Saint-Mandé in 1872. He studied sculpture at the Ecole des Beaux-Arts in Paris under Cavelier, Barrias and Puech. He pursued parallel careers as a sculptor of bronze, bronze and ivory and stone as well as a medallic engraver and regularly exhibited at the Salons of the Société des Artistes Français.
ITALIAN MARBLE SCULPTURE
Madonna and Child, Italy, 15th c.,
Roughly 19 3/4" x 5 3/4" x 4 1/4".
Possibly from Genoa, Italian white marble, a standing figure holding her child in the crook of her right arm, atop a carved plinth with a Latin inscription that translates as "Pure, chaste, pious Maria, have mercy upon us". Roman letters FGF appear inverted on one side of the plinth.
A near pair of Spanish or Portuguese polychrome decorated carved wooden heads of Christ
Each raised on stained beach square bases,
18cm wide, 16cm deep, 41cm high (7in wide, 6in deep, 16in high)
These carved and painted heads are likely to be from processional figures often used with crudely carved bodies but wearing decorative robes.
MEDIEVAL RELIGIOUS SCULPTURE
Mid to late 15th century
Swabian or Franconian Polychrome Limewood Figure of the Virgin, her head hooded, her hands clasped in prayer.
Swabians (Schwaben) are an ethnic German people, native to or have ancestral roots in the cultural and linguistic region of Swabia, which is now in southwest Germany.
Franconia (Franken) commonly refers to the eastern part of the historic Duchy of Franconia in Germany, mainly represented by the Bavarian districts of Lower Franconia , Middle Franconia, and Upper Franconia.
19th cent. Carved wood Saint - female 45.5"
AN ITALIAN BAROQUE WOOD SCULPTED HEAD OF CHRIST
Circa, 17th Century
The visage with serene expression tilted as if gazing toward heaven
Coptic marble relief depicting saints
Egypt, c. 9th - 12th Century
10 ½ in x 9 ½ in x 2 in (26.8 x 24.2 x 5 cm).
Part of a circular element divided in to registers, the five visible on the relief containing male and female heads, the two more central are facing the others in relief, the middle facing head appears to be female. Outside the raised border is graffito depicting Christian symbols, the fish being the most prominent of the 6 or so symbols. A beautiful piece in excellent style for the period. Mineral deposits throughout.
Apostle's head
Limestone with traces of polychrome
French School of the fifteenth century
Apostle's head
limestone with traces of polychrome
French School of the fifteenth century
Large Christ
carved
polychromed
walnut
Head surrounded by a crown of thorns intertwined, inclined to the right shoulder, long wavy locks of hair resting on the top of the shoulders, lying face expression appeased with half-closed eyes. Perizonium (
a type of loincloth that originated with the Minoan civilization in Crete
) retained by a cord with a pan falling on the front and a turbulent on the back of the right hip, legs straight with feet stacked based on a suppedaneum
Descent from the Cross
The body of Jesus, still held by one arm is lifted by two men - probably Joseph of Arimathea and Nicodemus - and supported by two others - including Saint Jean, standing on two profile scales; above three holy women surrounding the fainting Virgin. The bottom having Jerusalem. Low and high reliefs carved walnut. Epoque late sixteenth century. H .: 67 cm - Width .: 36.7 cm.
Joseph of Arimathea was, according to all four canonical Gospels, the man who donated his own prepared tomb for the burial of Jesus after Jesus' crucifixion. A number of stories that developed during the Middle Ages connect him with both Glastonbury, where he is supposed to have founded the earliest Christian oratory, and also with the Grail legend.
Joseph of Arimathea was an "a respected member of the council, who was also himself looking for the kingdom of God". Matthew was a rich man and a disciple of Jesus. Upon hearing of Jesus' death, he "asked Pilate that he might take away the body of Jesus, and Pilate gave him permission." Joseph immediately purchased a linen shroud and proceeded to Golgotha to take the body of Jesus down from the cross. There, Joseph and Nicodemus took the body and bound it in linen cloths with the spices that Nicodemus had bought. The disciples then conveyed the prepared corpse to the place previously bought for Joseph's own tomb, a man-made cave hewn from rock in a garden of his house nearby. More
Nicodemus was most notable for assisting in the burial of Jesus. He is venerated as a Christian saint.
Nicodemus appears three times in the Gospel of John. He first visits Jesus one night to discuss his teachings. The second time Nicodemus is mentioned, he reminds his colleagues in the Sanhedrin that the law requires that a person be heard before being judged. Finally, Nicodemus appears after the Crucifixion to provide the customary embalming spices, and assists Joseph of Arimathea in preparing the body of Jesus for burial. More
CROWNED VIRGIN WITH THE INFANT JESUS
SCULPTED IVORY,
19TH CENTURY
Height: 51 cm
Crowned Virgin with the Infant Jesus giving his blessing. She rests upon a round base and a pedestal with cut segments in natural oak sculpted into lozenges. Work in the Neo-Gothic style, 19th century Sculpted ivory
St. Francis of Assisi
18th/19th c.
French Polychrome Terracotta
h. 51 in., w. 15 in., d. 14 in.
St. Francis of Assisi, holding crucifix and iconic French text on the Franciscan Orders, and a skull at his feet.
Note: Skull: The transience of life, contemplation of death. It is the symbol of Hermits and Penitents, such as St. Mary Magdalene, St. Paul, St. Jerome, and St. Francis of Assisi. Hermits are usually shown with a skull to suggest their contemplation of death. When a cross is represented with the skull, it suggests their meditation upon eternal life after death.
Saint Francis of Assisi (1181/1182 – 1226) was an Italian Catholic friar and preacher. Francis is one of the most venerated religious figures in history.
Francis' father was Pietro di Bernardone, a prosperous silk merchant. Francis lived the high-spirited life typical of a wealthy young man, even fighting as a soldier for Assisi. While going off to war in 1204, Francis had a vision that directed him back to Assisi, where he lost his taste for his worldly life. On a pilgrimage to Rome, he joined the poor in begging at St. Peter's Basilica. The experience moved him to live in poverty. Francis returned home, began preaching on the streets, and soon gathered followers. His Order was authorized by Pope Innocent III in 1210. He then founded the Order of Poor Clares, which became an enclosed religious order for women, as well as the Order of Brothers and Sisters of Penance (commonly called the Third Order).
In 1219, he went to Egypt in an attempt to convert the Sultan to put an end to the conflict of the Crusades. By this point, the Franciscan Order had grown to such an extent that its primitive organizational structure was no longer sufficient. He returned to Italy to organize the Order. Once his community was authorized by the Pope, he withdrew increasingly from external affairs. In 1223, Francis arranged for the first Christmas nativity scene. In 1224, he received the stigmata, making him the first recorded person to bear the wounds of Christ's Passion. He died during the evening hours of October 3, 1226.
On July 16, 1228, he was proclaimed a saint by Pope Gregory IX. He is known as the patron saint of animals and the environment, and is one of the patron saints of Italy. More
St. Dominic de la Calzada, 18th/19th c.,
Continental Polychrome Carved Wood Figure
Probably Spanish, St. Dominic is holding the rooster and chicken with which he performed the miracle.
Saint Dominic de la Calzada (or Dominic of the Causeway) (Spanish: Santo Domingo de la Calzada) (1019 – 12 May 1109) was a saint from a cottage in Burgos very close to La Rioja. Born Domingo García in Viloria de Rioja, he was the son of a peasant.
Saint Dominic repeatedly tried to join the Benedictine order at Valvanera and San Millán de la Cogolla, but was turned away. He then became a hermit in the forests near Ayuela, near the present-day town of Santo Domingo de la Calzada, until 1039. In 1039, he began working with Gregory IV of Ostia (Gregorio), bishop of Ostia, who had been sent to Calahorra as a papal envoy to combat a plague of locusts that afflicted Navarre and La Rioja.
Gregory ordained Dominic a priest. They built together a wooden bridge over the Oja River to help pilgrims on the Way of St. James. Gregory died in 1044, and Dominic returned to Ayuela, where he began developing the area. He cleared trees, cultivated the earth, and began to build a paved causeway (in Spanish, calzada), which served as an alternate route to the traditional Roman causeway between Logroño and Burgos. Dominic's causeway became the principal route between Nájera and Redecilla del Camino.
To better the conditions of the pilgrims that began to use his new causeway, he replaced the wooden bridge that he had built with Gregory with one made of stone, and constructed a building that was a hospital, well, and church, which attended to the needs of the travelers. Today, it is the Casa del Santo, which is a used as a hostel by modern day pilgrims. Due to the development of these public works he is the Patron Saint of the Spanish Civil Engineers.
Alfonso VI of Castile annexed La Rioja in 1076 and seeing that Dominic's efforts contributed to the Castilianization of the region, decided to support him and his projects. He visited Dominic in 1090 and thereafter Dominic, assisted by his follower Juan de Ortega, began construction on a church dedicated to Christ and the Virgin Mary. This was consecrated by the bishop of Calahorra in 1106.
The town of Santo Domingo de la Calzada began as a few houses built around the hermitage of the saint in his lifetime. At this death in 1109, the village had grown in population. Dominic's church, later the Cathedral of Santo Domingo de la Calzada, was where he was buried, and it was elevated to the rank of cathedral after being placed in the jurisdiction of the Diocese of Calahorra in the 1230s.
Miracles are attributed to Dominic. The most famous miracle concerns that of the rooster and the chicken, which is said to have taken place at Santo Domingo de la Calzada. The story goes that in the 14th century, a German 18-year-old named Hugonell, from Xanten, goes on pilgrimage to Santiago de Compostela with his parents. A Spanish girl at the hostel where they were staying makes sexual advances toward Hugonell; Hugonell rejects her advances. Angry at this, the girl hides a silver cup in the German's bag and then informs the authorities that the youth had taken it. Hugonell is sentenced to the gallows, in accordance with the laws of Alfonso X of Castile.
The parents sadly decide to examine their son's body, still hanging on the gallows, but suddenly hear his voice –he tells them that Saint Dominic has saved his life. His parents quickly make their way to Santiago de Compostela to see the magistrate. The magistrate, who is at the time eating dinner, remarks: "Your son is as alive as this rooster and chicken that I was feasting on before you interrupted me." And in that moment, the two birds jump from the plate and begin to sing and crow happily. More
Early 19th cent.
Spanish Colonial
49" Santo
George Tinworth for Doulton Lambeth
Two Terracotta Biblical Plaques, circa 1880
with modelled figures in relief, one titled 'Simon A Cyrenian with The Christ' and the companion titled 'Christ Healing the Sick Man'
21cm square and 22.5cm square
George Tinworth (5 November 1843 – 10 September 1913) was an English ceramic artist who worked for the Doulton factory at Lambeth from 1867 until his death
Born to extreme povertyt. He had been impressed as a boy with so-called living statues who displayed themselves at fairs. He used to peek through the cracks of the tents. He started to carve butter stamps and a foreman plasterer in the next street suggested he went to art school to study anatomy. At nineteen he pawned his overcoat to pay for evening classes at the local Lambeth School of Art in Kennington Park Road.
At Lambeth he created the 'The Mocking of Christ', now on show at the Cuming Museum on the Walworth Road, Southwark.
From the Lambeth School of Art he went on to the Royal Academy Schools in 1864, winning various medals for his work. After the Royal Academy he got a job with Doulton, the Lambeth stoneware manufacturer, where he made cases for water filters, and soon moved on to making the new range of salt-glazed stoneware that became known simply as "Doulton Ware" . His father died in the same year, and he was left as the main supporter of his mother and family.
At Doulton, he produced vases, jugs, humorous figures and animals and larger pieces. Through his engagement with Doulton, Tinworth also designed an altarpiece, a pulpit and a font for St. Alban's Anglican Church which was consecrated in 1887 in Copenhagen, Denmark. They were donations from the factory to the church and manufactured in terra cotta with salt glazed details to Tinworth 's design.
Many of his pieces were shown at the Royal Academy where they were admired by John Ruskin, amongst others. The first to be exhibited there in the year he joined the school was a group of children fighting called "Peace and Wrath in Low Life". A large scale terracotta fountain, "The Fountain of Life", was donated to Kennington Park by Henry Doulton in 1872. Other pieces by Tinworth are to be found in the Museum of Garden History in Lambeth, adjacent to the main entrance of St Bede's College, Manchester, in the panel above the entrance to the former Doulton Works in Black Prince Road, Lambeth, the Baptist Chapel in Wraysbury, in Truro Cathedral, Cornwall, in St Mark's Church in Hanley, Stoke-on-Trent, and in St Mary's Church in Burton, Wiltshire.
The Cuming Museum has Tinworth's major independent art project in storage. This is a 4-foot-high (1.2 m) model of a project for an elaborate memorial to Southwark's connection with Shakespeare, made in 1904. Enough public donations were never achieved to realise it. Though this was Tinworth's most ambitious autonomous art project, he also made a number of complex figure compositions in relief, including The Release of Barabas and Saul attacking David. More
Doulton & Co. was first and foremost a manufacturer of industrial ceramics, including water filters, drainage pipes and sanitary fittings. In the early 1860s, however, the company began the manufacture of domestic and ornamental salt glazed stoneware that became known as 'Doulton Ware'. The nearby Lambeth School of Art became associated with the Doulton business from about the same time and Henry Doulton joined the Board of the School in 1863.
Doulton & Co.'s decorative stoneware produced in association with the School of Art had enormous success at International Exhibitions in the 1860s and 1870s, culminating in acclaim at the Philadelphia Exhibition in 1886 (and also at Chicago in 1893). Public interest, and production, peaked in the late 1890s when about 370 artists were employed at Lambeth making the salt-glazed ornamental stoneware. More
George Tinworth for Doulton Lambeth
Two Biblical Panels, circa 1880
Modelled figures in relief, one glazed stoneware, the companion in terracotta
21.5cm x 10cm and 20.5cm square
George Tinworth
'Finding the Saviour in the Manger'
Painted Terracotta Panel, circa 1880
Modelled figures in relief, contained within an ebonised wooden frame with glass front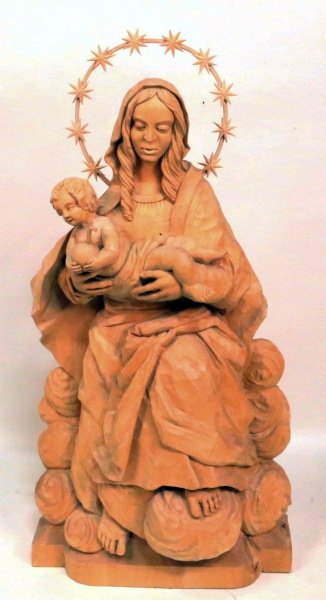 MARKUS HAHN WOOD CARVING
MADONNA & CHILD, 1983
Height: 45 in. by Width: 25 in. by Depth: 12 in.