Francisco de Zurbarán (baptized November 7, 1598 – August 27, 1664) was a Spanish painter. He is known primarily for his religious paintings depicting monks, nuns, and martyrs, and for his still-lifes. Zurbarán gained the nickname Spanish Caravaggio, owing to the forceful, realistic use of chiaroscuro in which he excelled.
Francisco de Zurbarán (1598–1664)
Saint Luke as a painter, before Christ on the Cross, c. 1630-1639
105 × 84 cm (41.3 × 33.1 in)
Zurbarán was born in 1598 in Fuente de Cantos, Extremadura; he was baptized on November 7 of that year. His parents were Luis de Zurbarán, a haberdasher, and his wife, Isabel Márquez.] In childhood he set about imitating objects with charcoal. In 1614 his father sent him to Seville to apprentice for three years with Pedro Díaz de Villanueva, an artist of whom very little is known.
Francisco de Zurbaran (1598–1664)
St. Dorothy with a basket of apples and roses, c. 1648
180.2 × 101.5 cm (70.9 × 40 in)
Sold for $ 4,226,500 in 2010
His first marriage, in 1617, was to María Paet who was nine years older. María died after the birth of their third child in 1624. In 1625 he married again to wealthy widow Beatriz de Morales. The money and family connections Zurbarán's second wife possessed were a boon for his career, enabling him to return to Seville.
Francisco de Zurbarán
FUENTE DE CANTOS, BADAJOZ 1598 - 1664 MADRID
PORTRAIT OF DOCTOR JUAN MARTINEZ SERRANO, FULL LENGTH
193 by 107 cm.; 76 by 42 1/4 in.
Sold for
825,250 GBP in 2009
On January 17, 1626 Francisco de Zurbarán signed a contract with the prior of the Dominican monastery San Pablo el Real in Seville, agreeing to produce 21 paintings within eight months. Fourteen of the paintings depicted the life of Saint Dominic; the others represented Saint Bonaventura, Saint Thomas Aquinas, Saint Dominic, and the four Doctors of the Church. This commission established Zurbarán as a painter.
Francisco de Zurbarán
The Apotheosis of St. Thomas Aquinas, c. 1631
Museum of Fine Arts, Seville, Spain
Commissioned as an altarpiece, shows St. Thomas standing amid SS. Ambrose, Gregory, Jerome, and Augustine—Latin Church doctors pouring over texts. St. Paul and St. Dominic share a chat.
In 1627, he painted "Christ on a Cross" for a Dominican monastery. A masterpiece, the work secured Zurbarán's standing as a respected, sought-after painter. He received an invitation to stay in the city from the council of Seville in 1629.
Francisco de Zurbarán
Christ and the Virgin in the House at Nazareth, c. 1640
h:165.00 w:218.20 cm (h:64 15/16 w:85 7/8 inches)
Sold for $ 3,512,000 in 2007
Stories of Christ's childhood and adolescence became increasingly popular during the Counter-Reformation because they were easily understood by a broad public. Rather than taking a story from the Bible, Zurbarán appears to have invented this subject, in which Jesus pricks himself on a crown of thorns he is weaving, foretelling his later torment at the Crucifixion. Despite the grand scale and monumental figures, the work has remarkable intimacy and quietness, emphasizing such details as the Virgin's tears. More
On August 29, 1628, Francisco de Zurbarán was commissioned by the Mercedarians of Seville to produce 22 paintings for the cloister in their monastery. In 1629, the Elders of Seville invited Zurbarán to relocate permanently to the city, as his paintings had gained such high reputation, that he would increase the reputation of Seville.
Francisco de Zurbarán (1598–1664)
Saint Dorothy, c. 1640-1650
173 × 103 cm (68.1 × 40.6 in)
Museum of Fine Arts of Seville
Saint Dorothea of Caesarea ( died ca. 311) is a 4th-century virgin martyr who was executed at Caesarea Mazaca. Evidence for her actual historical existence or acta is very sparse. She is called a martyr of the Diocletianic Persecution, although her death occurred after the resignation of Diocletian himself. She should not be confused with another 4th-century saint, Dorothea of Alexandria. More
He moved to Seville with his wife Beatriz de Morales, the three children from his first marriage, a relative called Isabel de Zurbarán and eight servants. In May 1639 his second wife, Beatriz de Morales, died. Towards 1630 he was appointed painter to Philip IV, and there is a story that on one occasion the sovereign laid his hand on the artist's shoulder, saying "Painter to the king, king of painters".
Francisco de Zurbarán (1598–1664)
Saint Francis of Assisi according to Pope Nicholas V's Vision, circa 1640
Height: 1,805 mm (71.06 in). Width: 1,105 mm (43.5 in).
Museu Nacional d'Art de Catalunya
The painting depicts Francis of Assisi standing upright in his grave, after circa hundred years of his death. Zurbarán, contrary to many Barock painters of his time, was using mostly restrained colors. The compositions of his works are generally austere and simple.[1][2] The Barock style was an exhuberant artistic style using means to involve, impress and move the viewer's senses. The painter, while more resticted in his manner, still make use of the Barock ers's stylistic tools, creating impact that the meant to impress the wiever: the light on the face of the saint who is depicted with shocking realism, is falling from the side, creating dramatic shadows. More
Francisco de Zurbarán
FUENTE DE CANTOS, BADAJOZ 1598 - 1664 MADRID
SAINT FRANCIS AT PRAYER
157.5 by 100.5 cm.; 62 by 39 1/2 in.
This image of Saint Francis at Prayer by Francisco de Zurbarán can be dated on stylistic grounds to around 1650-55, towards the end of the artist's Sevillian period, and is characterised by his dramatic treatment of light and sense of monumentality to the figure for which he was so admired during his lifetime as also today. Zurbarán produced devotional works relating to the founder of the Franciscan Order throughout his career, and through their stark simplicity and profound sense of spirituality, they can today be considered amongst the most evocative and iconic sacred images produced within 17th century Spain.1
For over three centuries the present work remained in the collection of the Counts of Ibangrande, Spain, whose descendants sold the painting at auction in Madrid in 2001, when its true authorship was obscured by dense layers of dirt and accretions that covered the paint surface. It was only following a professional restoration in London that, as stated by the leading Zurbarán scholar Odile Delenda:
'then appeared the indisputable qualities of the work which permit it to be accepted as a totally autograph work' More
As he mainly worked for monastic orders, the majority of Zurbarán's work consisted of religious imagery. Many of his theologically inspired paintings are simple, yet emotionally compelling, works that showcase his naturalistic style, as well as his skilled use of light and shadow. Zurbarán's few secular pieces include exquisite still life images, such as "Still Life with Lemons, Oranges and a Rose" (1633), and a "Labors of Hercules" series painted for the Buen Retiro Palace in Madrid.
Francisco de Zurbarán (1598–1664)
Immaculate Conception, c. 1632
Museu Nacional d'Art de Catalunya
The Immaculate Conception represents Mary as the only mortal being free of original sin. This is a long-established Catholic doctrinal argument, frequently depicted in the painting of the Spanish Golden Age. Mary appears standing on five cherubim occupying a half moon. She is wearing a necklace with the anagram A(ve) M(aria), while a host of stars and angels emerge from the clouds in the halo around her head. On either side are angels with lilies, roses (attributes of purity) and tablets with inscriptions from the 'Song of Songs'. At the sides are two collegiates and symbols alluding to Mary: the Unblemished Mirror, Jacob's Ladder, Gates of Heaven and Morning Star. Zurbarán painted several versions of this theme, but this one is unquestionably the best. More
Workshop of Francisco de Zurbarán
FUENTE DE CANTOS, BADAJOZ 1598 - 1664 MADRID
THE IMMACULATE CONCEPTION
bears inscription on the reverse: DE. BA (in ligature) ar.DE (in ligature)
169 by 107 cm.; 66 1/2 by 42 1/8 in.
This painting was first published by the great Spanish scholar Diego Añgulo in 1983 as a new discovery by Zurbarán, one of the most original and important Spanish masters of the seventeenth century. The attribution was accepted by successive scholars, among them Alonso Pérez Sánchez in 1993, but has more recently been challenged by Odile Delenda (see Literature) who considers it to be the work of an as yet unidentified follower of Zurbarán, also working in Seville in the late 1620s. More
After 1640 his austere, harsh, hard-edged style was unfavorably compared to the sentimental religiosity of Murillo and Zurbarán's reputation declined. Beginning by the late 1630s, Zurbarán's workshop produced many paintings for export to South America. However, fleet seizures kept him from receiving some payments, which exacerbated his financial difficulties. In the 1650s, he once again focused on domestic commissions.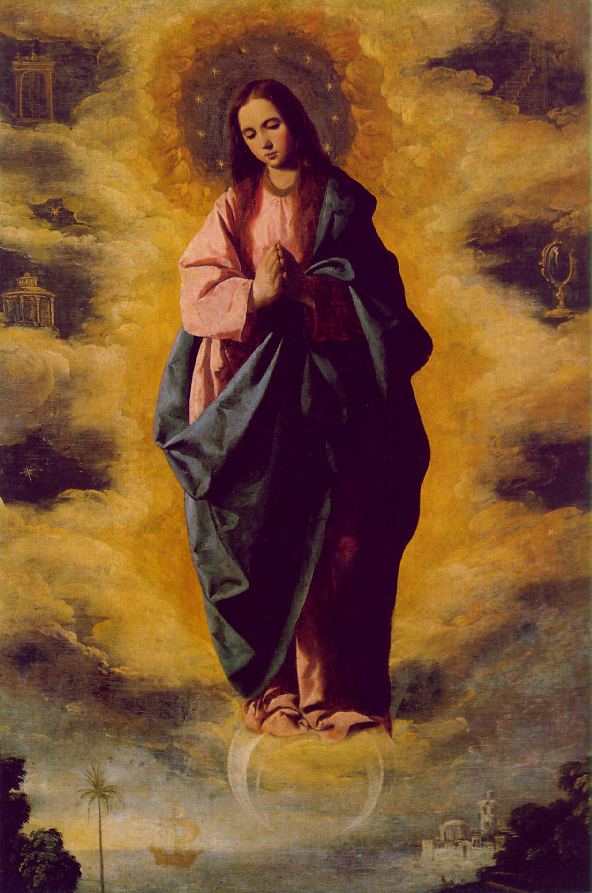 Francisco de Zurbaran (1598–1664)
The Immaculate Conception
Devotional painting based on the Marian Litany, a rogation to the Virgin which was said in the early years of the 17th century on the feasts dedicated to the Madonna. In this work, the palm and cypress trees symbolise, as well as the chastity of the Virgin, her triumph over original sin, represented by the serpent writhing at her feet under the full moon. More
Francisco de Zurbaran (1598–1664)
The Virgin of Las Cuevas, c. 1630-50
Monasterio de Santa María de las Cuevas (Sevilla)
Throughout his career as a painter, Francisco de Zurbarán was commissioned to paint large works in his workshop for various monastic orders. This is an example. It belongs to a series of canvases for the Carthusian monastery of Santa María de las Cuevas in Seville, painted around 1655: Saint Bruno's visit to Urban II, The Virgin of the Carthusians, and Saint Hugh in the refectory. In all of them Zurbarán skilfully interprets the spiritual principles which govern the lives of the Carthusians: silence, devotion to the Virgin Mary, and mortification through fasting.
The simplicity and defects of the compositions are amply surpassed by the great plastic force with which he endows all the elements in the painting, by treating each one as unique and individual. It is also noteworthy for the extraordinary skill in depicting the qualities of the materials. The technique is fluid and light, as he moves away from his initial Tenebrist style towards the creation of luminous paintings and a skilled use of colour. More
Francisco de Zurbaran
Madonna with Child, c. 1658
Pushkin Museum of Fine Art, Moscow, Russia
Francisco de Zurbaran
Virgin of the Rosary
Museum of Fine Arts, Seville, Spain
Studio of Francisco de Zurbarán
FUENTE DE CANTOS, BADAJOZ 1598 - 1664 MADRID
THE ENTOMBMENT OF SAINT CATHERINE ON MOUNT SINAI
199.2 by 137 cm.; 78 1/2 by 53 7/8 in.
Zurbaran based this composition on an engraving by Cornelis Cort, dated 1575, now in the Bibliothèque Nationale, Paris. There are five other known versions of this composition The source of the present painting is now in the Alte Pinakothek, Munich.
As in similarly structured compositions, the artist has only summarily painted the upper part of the work. The increasing precision reaches its pinnacle with the fabrics in shades of pink and grey in the lower part of the painting.
Saint Catherine was a virgin martyr from the fourth century who was taken before a tribunal of wise theologians to defend her faith. Her knowledge and rhetoric mean that she is considered the patron saint of philosophers and orators. Unfortunately her eloquence did not convince the judges who condemned her to be tortured. First she was tied to wheel of knives which broke. After the first failed attempt she was beheaded with a sword. In this painting the instruments of her martyrdom appear next to her tomb and the girl's snow-white neck has been cleanly cut. The posthumous miracle took place when the angels to whom the girl had commended herself on her death rescued her body from the hands of her executioners and buried her on Mount Sinai where her corpse was discovered incorrupt in the 9th century. More
Although Zurbarán was an accomplished artist, some of his work has revealed his limitations. The creations of his workshop were occasionally of poor quality, perhaps due to his unfit assistants. And when Bartolomé Esteban Murillo's work became popular in Seville, Zurbarán found himself displaced as the city's foremost painter, even though he tried—unsuccessfully—to imitate Murillo's style.
Francisco de Zurbarán (1598–1664)
The Flight into Egypt, c. late 1630s
150 × 159 cm (59.1 × 62.6 in)
In this painting, what appears to be an ordinary Spanish family of the seventeenth century is, in fact, Jesus with his parents, the Virgin Mary and Joseph. Religious painters of this time strove to make stories from the Bible real and compelling for their contemporary audiences. Zurbarán, one of Spain's most distinctive painters, addresses events that followed the birth of Jesus Christ as described in the Gospel of Matthew: Jesus' father Joseph was warned in a dream that the jealous King Herod was threatening his infant son's life. Joseph immediately packed up the family and they fled to safety in Egypt. The frontal orientation invites veneration from worshippers who would have been the original audience for this painting
. More
On February 7, 1644, Francisco married a third time with another wealthy widow, Leonor de Torder. It was only in 1658, late in Zurbarán's life, that he moved to Madrid in search of work and renewed his contact with Velázquez.
Francisco de Zurbarán (1598–1664)
The Annunciation, c. 1650
Height: 2,176.53 mm (85.69 in). Width: 3,164.33 mm (124.58 in).
Philadelphia Museum of Art
This painting depicts the archangel Gabriel announcing to the Virgin Mary that she will bear the son of God. Overhead, the dove of the Holy Spirit hovers among lively angels. The trend in Spanish art toward more intimate and emotional portrayals of religious scenes is evident in the crisply painted details of the book, furniture, and garments contrast with the smoky shadows around the faces of the two main figures, evoking both the physical reality and psychological intensity of the event.
This Annunciation falls quite late in Zurbarán's career, when his simple and abrupt modeling, dark to light, begins to soften and blur. His palette becomes less strident and more blended, while the nearly militaristic urgency of his earlier work is replaced by an intimacy and tenderness. The walls of the Virgin Mary's room literally dissolve in a flood of cherubs bathed in light, as the angel Gabriel with great gallantry and discretion announces that she is with child. More
Francisco de Zurbaran (1598–1664)
The Annunciation, circa 1638
266 × 184.5 cm (104.7 × 72.6 in)
The Annunciation, also referred to as the Annunciation to the Blessed Virgin Mary, the Annunciation of Our Lady or the Annunciation of the Lord, is the Christian celebration of the announcement by the angel Gabriel to the Virgin Mary that she would conceive and become the mother of Jesus, the Son of God, marking his Incarnation. Gabriel told Mary to name her son Yehoshua , meaning "YHWH is salvation" More
Flush with international power and resources from its holdings in Europe, the Americas and Asia, the royal court of Spain was the greatest art collector in the country. Before the seventeenth century, Spanish patrons mostly commissioned art from Italian and Flemish artists; but in the 1600s Spanish artists came into their own. Velázquez, Murillo, Ribera, and Zurbarán created a formidable reputation for earthy naturalism, whether the subject was religious or drawn from daily life.
More
Francisco de Zurbaran
Adoration of the Magi, c. 1639-40
Gallery: Museum of Fine Arts, Grenoble
In 1638 Zurbarán received an order from the Carthusians of Jerez which consisted principally of two parts: five large and two small canvases for the monumental altarpiece of the church, and eight portraits of distinguished members of the order, accompanied by two images of angels with censers, which were installed in a narrow passageway leading to a small room behind the altar where the host was kept. Four of the major altarpiece paintings depict the Infancy of Christ, and for sheer magnificence of colour and spectacle, they are unsurpassed in the artist's work. One of these paintings is the Adoration of the Magi.

This painting is a version of the composition employed by Velázquez. Zurbarán takes this scheme as his point of departure and enriches it by substituting rich colourful costumes for the plain serges worn by the magi of Velázquez, although fundamentally the paintings are similar in their use of large figures, the suppression of illusionistic space, and the air of high solemnity. More
Francisco de Zurbaran
Blessed John Hougton, c. 1638
Museum: Museum of Fine Arts Cadiz
Saint John Houghton, O.Cart., (c. 1486 - 4 May 1535) was a Carthusian hermit and Catholic priest, and the first English Catholic martyr to die as a result of the Act of Supremacy by King Henry VIII of England. He was also the first member of his Order to die as a martyr. - Houghton, along with two Carthusians, Fr. Reynolds, and John Haile of Isleworth, was hanged, drawn and quartered at Tyburn on 4 May 1535. Catholic tradition relates that when Houghton was about to be quartered, as the executioner tore open his chest to remove his heart, he prayed, "O Jesu, what wouldst thou do with my heart?" A painting of the Carthusian Protomartyr by Zurbarán depicts him with his heart in his hand and a noose around his neck. More
Francisco de Zurbarán was the first painter in the Iberian Peninsula to realize fully the magnitude of the revolution in painting that had occurred in Italy in the early seventeenth century, as the decorative sophistication, attenuated figures, and oblique narratives of the previous generation were abandoned in favor of blunt realism. This new style was perfectly suited to the church's attempts to popularize holy images for a broader audience in danger of being lost to the Protestant Reformation. In Spain in particular these changes created some of the most immediate and profoundly moving religious paintings in the history of art. More
Francisco de Zurbaran (1598–1664)
Desert Mothers Saint Paula and her daughter Eustochium with their spiritual advisor Saint Jerome, c. 1638-1640
247 × 174 cm (97.2 × 68.5 in)
Deutsch: National Gallery of Art
The Desert Mothers were women Christian ascetics living in the deserts of Egypt, Palestine, and Syria in the 4th and 5th centuries AD. They typically lived in the monastic communities that began forming during that time, though sometimes they lived as hermits. Moreover, archeological evidence would suggest that the desert community were not completely isolated as they were a part of the general economy. Other women from that era who influenced the early ascetic or monastic tradition while living outside the desert are also described as Desert Mothers. More
Saint Paula, also known as Saint Paula of Rome (347 – 404 AD), was an ancient Roman saint and early Desert Mother. A member of one of the richest senatorial families which claimed descent from Agamemnon. In her mid teens, Paula was married to the nobleman Toxotius, with whom she had four daughters, and a boy. Information about Paula's early life is recorded by Saint Jerome. In his Letter 108.
At the age of 32, Paula was widowed. She continued to dedicate herself to her family, but became more interested in religion as time went on. Through the influence of Saint Marcella and her group, Paula became an enthusiastic member of this semi-monastic group of women. In 382, she met Saint Jerome, who had come to Rome with Saint Epiphanius and Bishop Paulinus of Antioch.
While on pilgrimage to the Holy Land and Egypt, she settled in Bethlehem and established a monastery for men and a convent for women.
Her daughter, Eustochium accompanied her mother to the Orient where she died in 419.
Paula helped Jerome in his translation of the Bible from Hebrew and Greek into Latin. The work was done at her suggestion, and she provided the reference works necessary for the undertaking. Being versed in Hebrew, she edited Jerome's manuscripts. She and her daughter Eustochium copied the work for circulation. Palladius, a contemporary of Jerome, believed that Paula was hindered by Jerome: "For though she was able to surpass all, having great abilities, he hindered her by his jealousy, having induced her to serve his own plan."
When Jerome died in late 419 or early 420, he was buried beneath the north aisle of the Church of the Nativity, near the graves of Paula and Eustochium.
More
Francisco de Zurbarán (1598–1664)
The Apparition of Apostle St Peter to St Peter of Nolasco, c. 1629
Height: 179 cm (70.5 in). Width: 223 cm (87.8 in).
The artist shows his skill here in producing simple compositions centring on the study of expression, the reproduction of textures and the interplay of whites and greys. The Apostle Saint Peter appears to Saint Peter Nolasco to console him on not being able to travel to Rome to visit his tomb and to advise him to continue his apostolic work in Spain. It is one of the most important episodes in the life of the founder of the Mercedarian Order of Our Lady of Mercy. Zubarán painted a wide series of canvases for the convent in Seville, including the "Vision of Saint Peter Nolasco".
It is a work from Zubarán's early career stage and is signed and dated in the centre of the lower section, next to the saint's habit. It was ceded in 1821 by Dean López Cepero to King Ferdinand VII, who gave it to the Prado Museum. More
Saint Peter the Apostle; Christian Apostle, Also known as Simeon, Simon, Cephas, Born in Bethsaida, Israel, Died c. 64 in Rome, Italy.
Saint Peter the Apostle, original name Simeon, or Simōn (died c. ad 64, Rome), disciple of Jesus Christ, recognized in the early Christian church as the leader of the disciples and by the Roman Catholic church as the first of its unbroken succession of popes. Peter, a fisherman, was called to be a disciple of Jesus at the beginning of his ministry. He received from Jesus the name Cephas (i.e., Rock, hence Peter, from the Latin petra).
More
Saint Peter Nolasco (1189 – 6 May 1256).
With St. Raymond of Penafort, founder of the Order of Mercedarians, the religious community which sent members as ransom for Christian prisoners in the hands of the Saracens. Details of his life are uncertain, but he was probably a native of Languedoc, France. After taking part in the crusade against the heretic Albigensians of southern France, he became a tutor of King James I of Aragon and then settled at Barcelona. There he became friends with St. Raymond of Penafort, and in 1218, with the support of James I, they laid the foundation for the Mercedarians, devoted to the ransoming of Christian captives. Twice Peter went to Africa to serve as a captive, and it was reported that during one journey to Granada and Valencia he won the release from Moorish jails of some four hundred captive Christians. Retiring in 1249, he was followed as head of the order by William of Bas. He was canonized by Pope Urban VIII in 1628. His feast day is now confined to local calendars. More
Francisco de Zurbarán (1598–1664)
Saint Apollonia, c. 1636
Height: 113 cm (44.5 in). Width: 66 cm (26 in).
Saint Apollonia was one of a group of virgin martyrs who suffered in Alexandria during a local uprising against the Christians prior to the persecution of Decius. According to legend, her torture included having all of her teeth violently pulled out or shattered. For this reason, she is popularly regarded as the patroness of dentistryand those suffering from toothache or other dental problems. French court painter Jehan Fouquet painted the scene of St. Apollonia's torture in The Martyrdom of St. Apollonia. More
Francisco de Zurbarán (1598–1664)
Fray Jeronimo Perez, c. 1633
Real Academia de Bellas Artes de San Fernando (Madrid)
Father Jerome Perez. A fine, highly expressive painting that forms part of the series by Zurbarán depicting theologians and preachers from the Mercedarian Order of Our Lady of Mercy.The series was originally composed of eleven paintings, of which eight survive. This is the best executed of them. The series was painted for the library of the convent of the Order in Seville (now the Museum of Fine Arts).
It depicts Fray Jerónimo Pérez and shows the monks' style of life, which alternated between study and prayer. Its force is in the monk's gaze, which appears absorbed in an inner meditation.
More
Francisco de Zurbaran
St. Elizabeth of Portugal, circa 1635
Elizabeth of Aragon, more commonly known as Elizabeth of Portugal, (1271 – 1336), was queen consort of Portugal, a tertiary of the Franciscan Order and is venerated as a saint of the Roman Catholic Church.
Elizabeth showed an early enthusiasm for her Faith. She said the full Divine Office daily, fasted and did other penance, as well as attended twice-daily choral Masses. Religious fervor was common in her family, as she could count several members of her family who were already venerated as saints. The most notable example is her great-aunt, St. Elizabeth of Hungary, after whom she was named. More
A Spanish princess, Elizabeth (Isabel) was married at age 12 to King Dinis of Portugal. Dinis apparently was a good king but a difficult husband who frowned on his wife's charity—a predicament a lot like that of Elizabeth of Hungary, Isabel's great-aunt. Their legends run along the same floral lines. As Isabel took bread to the poor, her husband confronted her; she said she was merely carrying flowers and when she opened her cape, roses came tumbling out.
Not only was Isabel a long-suffering wife and charitable queen, she appears to have been a brilliant architect, designing a number of buildings across Portugal and overseeing their construction.
Rainha Isabel's greatest miracles, however, involved the transformation not of flowers but of armies. She managed to maintain the peace between her combattive son and King Dinis for the throne of Portugal and later with the princes of Castile.
Rainha Santa Isabel is venerated in Zaragoza, Spain, and with great affection throughout her adopted homeland of Portugal. For her powers of peace, she is invoked "in time of war." More
Francisco de Zurbaran (1598–1664)
Nativity of the Virgin, c. 1629
141 × 109 cm (55.5 × 42.9 in)
originally in the Order of the Jesuits convent in Seville
Just as striking as Zurbarán's color scheme are his rich, descriptive treatment of the drapery, and the solid masses of his figures. He has arranged the composition in an airy, oval sweep to reveal the subtle play of light and shade. The woman standing at the right in contemporary costume is believed to be a portrait of the donor because she gazes directly toward the spectator. The eggs in her basket allude to the purity of the Virgin and to the Resurrection. More
Francisco de Zurbarán (1598–1664)
Saint Hugh in the refectory
Origin, Monastery of Santa María de las Cuevas (Seville)
Seville Museum of Fine Arts
Zurbarán received several major commissions from various monastic orders. This is one of a series of paintings for the Carthusian order. The work was painted for the sacristy of the Carthusian monastery of Santa María de las Cuevas in Seville around 1655. It narrates the miracle which occurred in 1084 in the Carthusian monastery in Grenoble, after which the monks took the decision to renounce the consumption of meat. The scene shows the seven founding friars of the order presided by Saint Bruno.
The miracle occurred on the Sunday before Ash Wednesday. Saint Hugh, bishop of Grenoble, sent meat to the friars, who were discussing the possibility of perpetual abstinence. Through divine intervention, they fell into a deep sleep for 45 days. When Saint Hugh visited them, they awoke and saw with astonishment that the meat had turned into ash, and took this a sign that they should resume their lives with increased austerity. More
Saint Hugh of Châteauneuf (1053 – 1 April 1132) was the Bishop of Grenoble from 1080 to his death. Born at Châteauneuf-sur-Isère, France, Hugh showed piety and theological facility from a young age. While still a layman, Hugh was made a canon of Valence. His piety was such that it was said of him that he only knew one woman by sight.
At the Council of Avignon in 1080, he was elected bishop of Grenoble, though he was not yet ordained. The See of Grenoble had fallen into a very poor state and Hugh was selected to be its Gregorian renovator. Conducted by a papal legate to Rome, Hugh was ordained by Pope Gregory VII himself.
For the rest of the 11th century, his episcopate was marked by strife with Count Guigues III of Albon over the possession of ecclesiastic lands in the Grésivaudan, a valley in the French Alps. An accord was finally reached between Hugh and Count Guigues only in 1099. The Count agreed to cede the disputed territories while Hugh admitted to the Count's temporal authority within the vicinity of Grenoble.
Hugh was also instrumental in the foundation of the Carthusian Order. He received Bruno of Cologne, perhaps his own teacher, and six of his companions in 1084, after seeing them under a banner of seven stars in a dream. Hugh installed the seven in a snowy and rocky Alpine location called Chartreuse. Hugh also founded the nearby Monastère de Chalais, which grew into an independent order.
Hugh was canonised on 22 April 1134 by Pope Innocent II, only two years after his death. During the French Wars of Religion (between Catholics and Protestants inspired by John Calvin, called "Huguenots"), the Huguenots burned his body. More
Francisco de Zurbarán (1598–1664)
Saint Serapius, c. 1928
"Scenes from the life of St. Pedro Nolasco"
120 × 103 cm (47.2 × 40.6 in)
Saint Serapion of Algiers (1179 – November 14, 1240) was a Mercedarian friar who is venerated as a martyr by the Catholic Church, and as a proto-martyr by the Mercedarian Order. According to tradition, he was born either in Ireland or England and served in the armies of Richard the Lion-Heart and Leopold VI during the Crusades.[3]
He met St. Peter Nolasco and became a Mercedarian in 1222. The Mercedarians' goal was to free Christian captives held by Muslim states, and Serapion offered himself as a hostage at Algiers in exchange for some Christian captives. When the ransom money did not arrive in time (or because he refused to stop preaching Christianity), Serapion was killed. According to Christian tradition, he was nailed on an X-shaped cross and was dismembered. More
Saint Serapion or The Martyrdom of Saint Serapion is a 1628 oil on canvas commissioned by the The Mercedarian Order to hang in the De Profundis (funerary chapel) hall of their monastery in Seville (now Museum of Fine Arts of Seville).
Saint Serapion is depicted by Zurbarán in a quasi-crucified pose, standing with each hand bound by ropes and chain to an overhead horizontal pole. According to Michael Brenson of the New York Times, his head "has shifted from the realm of the robe to the realm of the cape, which supports the head and seems to have the potential to lift it to the sky". The painting stops at the figure's knee level, while the strain placed on his arms is indicated by the heavy hanging folds of the drapes of the cloth hanging from left shoulder and right outstretched arm. The saint is identified by text on a small note placed to the left of his chest area.
The dominance of the white paint used to render the cloth creates a sense of tranquility, while the tension of the painting is derived from the dark shade created from the deep folds of the robes. In 2003, Scottish painter Alison Watt wrote, "Each fold has been pared down to the basic elements of light and shade. As a viewer you are seduced by this simplicity, only to realise you have been duped. Zurbarán has elevated the humble fabric of the robes of Saint Serapion to a divine level with pure, magnificent white. More
Francisco de Zurbarán (1598–1664)
Saint Marine
111 × 88 cm (43.7 × 34.6 in)
Saint Mariña of Aguas Santas (119–139 AD) is a Portuguese saint. She is a virgin martyr associated with the town of Aguas Santas, in the province of Ourense. The story of her life as it has been preserved is a mixture of fact and fiction. She is venerated as one of nine sisters, one of whom is Saint Liberata (Santa Librada).
She is said to have been born in Braga, Portugal, to Lucius Catilius Severus, Roman governor of Gallaecia and Lusitania, and Calcia, his wife. Marina was one of nine daughters. Calcia, frightened that her husband would interpret this multiple birth as a sign of infidelity, ordered her servant Sila to drown the girls in the Miñor River.
Disobeying her mistress, Sila, secretly a Christian, left Calcia's daughters in the care of several families. Marina and her sisters were baptized by the bishop of Braga Saint Ovidius and brought up in the Christian faith. When they were twenty, they were accused of being Christians and brought before their father the governor. He recognized them as his own daughters, and asked them to renounce their faith, promising them luxuries.
The sisters refused and were imprisoned. They managed to escape and were ultimately martyred for their faith. A spring of water gushed out of the spot where they were beheaded; the spot was called Aguas Santas ("Holy Waters"). More
Francisco de Zurbaran (1598–1664)
St. Rufina of Seville, c. 1635-1640
172 × 105 cm (67.7 × 41.3 in)
Workshop of Francisco de Zurbarán
Saint Rufina
Height: 85.4 cm (33.62 in.), Width: 64.7 cm (25.47 in.)
Fitzwilliam Museum - University of Cambridge
St. Rufina holds two jugs of clay that she carries as a reminder of her work in a Sevillian pottery. Zurbarán depicts St. Rufina in an elaborate gown that bears no relation to the clothing of the artist's age. At one point such images were considered to be portraits of contemporary women dressed as saints, but this idea can no longer be maintained. Still, the sources for the costumes remain mysterious. Zurbaran may have been inspired by processions during Corpus Christi in which actors in theatrical garb paraded through the streets in the roles of saints or perhaps the painter invented freely wishing to evoke the splendors of a legendary past. More
St. Justa and St. Rufina, Virgins and Martyrs. These martyrs were two Christian women at Seville in Spain who maintained themselves by selling earthenware. Not to concur in idolatrous superstitions, they refused to sell vessels for the use of heathen ceremonies and when the worshipers broke up their stock-in-trade, Justa and Rufina retorted by overthrowing the image of a false goddess. Whereupon the people impeached them for their faith before the governor. The prefect, after they had boldly confessed Christ, commanded them to be stretched on the rack and their sides to be torn with hooks. An idol was placed near the rack with incense, that if they would offer sacrifice they should be released; but their fidelity was not to be shaken. Justa died on the rack; the judge ordered Rufina to be strangled, and their bodies to be burned. They are greatly venerated in Spain, and no doubt their names represent historical martyrs in that place. More
Francisco de Zurbaran (1598–1664)
Saint Laurentius, c. 1636-1639
60 × 79 cm (23.6 × 31.1 in)
Provincial Museum of Fine Arts, Cadiz
Lawrence of Rome (225–258) was one of the seven deacons of Ancient Rome under Pope Sixtus II that were martyred during the persecution by Emperor Valerian in 258.
St Lawrence is thought to have been born in Huesca, a town in the Aragon region that was once part of the Roman province of Hispania Tarraconensis. Here he encountered the future Pope Sixtus II, who was of Greek origin, one of the most famous and highly esteemed teachers in Caesaraugusta (today Zaragoza), which was one of the empire's most renowned centres of learning. Eventually, both left Spain for Rome. When Sixtus became the Pope in 257, he ordained St Lawrence as a deacon, and though still young appointed him first among the seven deacons who served in the patriarchal church. He is therefore called "archdeacon of Rome", a position of great trust that included the care of the treasury and riches of the church and the distribution of alms among the poor.
St. Cyprian, Bishop of Carthage, notes that Roman authorities had established a norm according to which all Christians who had been denounced must be executed and their goods confiscated by the Imperial treasury. At the beginning of August 258, the Emperor Valerian issued an edict that all bishops, priests, and deacons should immediately be put to death. Sixtus was captured on 6 August 258, at the cemetery of St. Callixtus while celebrating the liturgy and executed forthwith.
After the death of Sixtus, the prefect of Rome demanded that St Lawrence turn over the riches of the Church. Saint Ambrose is the earliest source for the tale that St Lawrence asked for three days to gather together the wealth. He worked swiftly to distribute as much Church property to the poor as possible, so as to prevent its being seized by the prefect. On the third day, at the head of a small delegation, he presented himself to the prefect, and when ordered to give up the treasures of the Church he presented the poor, the crippled, the blind and the suffering, and said these were the true treasures of the Church. One account records him declaring to the prefect, "The Church is truly rich, far richer than your emperor." This act of defiance led directly to his martyrdom. More
Francisco de Zurbaran (1598–1664)
Praying Virgin Mary,
Mary as a child,
circa 1630
117 × 94 cm (46.1 × 37 in)
Metropolitan Museum of Art
The subject of Zurbarán's painting is the young Virgin Mary. According to medieval legend, she lived as a girl in the Temple in Jerusalem, where she devoted herself to praying and sewing vestments. This was a subject particularly popular in Italian and Spanish paintings of the seventeenth century, with the Virgin serving as a model of behavior for young women. The delicate modeling of the Virgin's face and the attention to the still-life elements are characteristic of Zurbarán's early style (also, see below). More
Francisco de Zurbarán (1598–1664)
Childhood of the Virgin , c. between 1658 and 1660
73.5 × 53.5 cm (28.9 × 21.1 in)
Hermitage Museum, Saint Petersburg
Francisco de Zurbarán (1598–1664)
The Child Virgin Asleep, c. (1630 - 1635)
Height: 1,100 mm (43.31 in). Width: 930 mm (36.61 in).
Fundación Banco Santander
This painting was done during the final twelve years of his life and demonstrates the virtuosismo of his brush after decades of great production. As we can see in the painting The Virgin Mary as a Child, Asleep, c. 1655, he continues to treat the figure with the same realism but with softer lines. He is attentive to details like the young child's robes, the softness of her hair, and the flowers on the table. His colors are brighter, but the sharp contrasts remain. More
Francisco de Zurbaran (1598–1664)
Defence of Cadiz against the English, c. 1634 - 1635
Defence of Cadiz against the English,
represents Don Fernando Giron, governor of Cadiz, giving instructions to his subordinates to organize the defense of the city, threatened by the British fleet that appears at the bottom. This event, held in 1625, was one of the military actions chosen to decorate the Hall of Realms of the Buen Retiro Palace in Madrid, along with other Spanish painters as entrusted to Velázquez, Maíno, or Carducho Vicente Pereda. More
Francisco de Zurbaran (1598–1664)
Angel with Incense, circa 1638
Provincial Museum of Fine Arts, Cádiz
It is one of the boards painted by Zurbarán for the Cartuja Monastery in Jerez; one of the best series by this artist. The two angels carrying thuribles which are housed in the Museum of Cadiz were possibly situated in the aisle of the sacrarium in the Cartuja Monastery in Jerez, where the Carthusian saints were located.
Zurbarán confidently combined the colours with daring contrasts, using intense tones. The figure of the angel is filled with solemnity and elegance. The use of the strong colour of the tunic, which marvellously contrasts with the bodice, and the details in the drawing and the folds are impressive. More