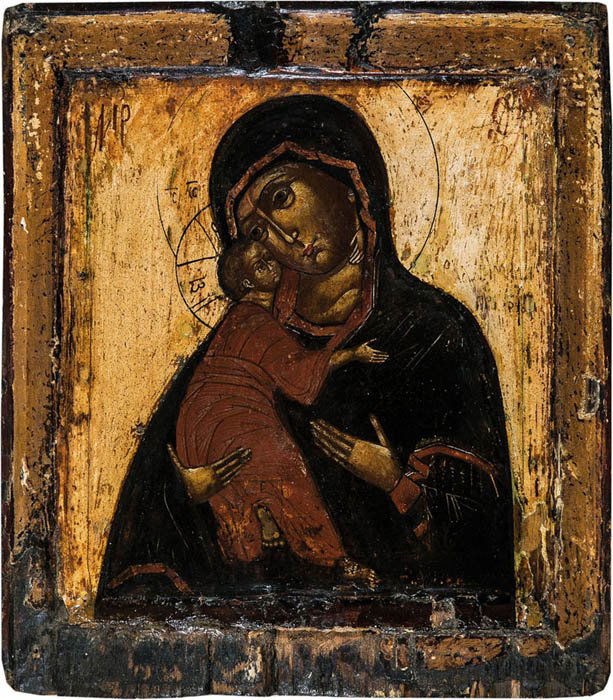 Our Lady of Vladimir (Vladimirskaya) Mother of God, Russia, 17th / 19th Century. Hardwood single board with two back side Sponki (lost). Double Kowtscheg (Ark), tempera on groundchalk . Background and border uncovered. Field used later in old board. Verso Cyrillic labels (scratched). Presentation of the The Mother of God shown in half-length with Christ in her right arm. Christ touching his cheek to his Mother's face. Border with losses. Almost Completely restored. . Field largely in the 19th century. Revised. Rand strong substance losses. 31.5 x 27.5 cm
Mother of God Vladimirskaya:
The Mother of God of Vladimir, also known under the name of Our Lady of Vladimir, Virgin of Vladimir Vladimirskaya,
Our Lady of Vladimir, Our Lady of Tenderness, The Lady Who Saves Russia,
is one of the icons orthodox most revered in Russia. The Theotokos (Greek Theotokos: Marie) is considered the patron saint of Russia.
The miraculous image given the title, Our Lady of Vladimir, is known as an Eleousa,the Greek word meaning, Mother of Tenderness. The Christ Child nestles tenderly close to his mother, he gazes at her and is so closely linked to her that his left arm embraces her fully. His right hand gently touches her left cheek. The original image is a large painting of the type known as the St. Luke icons. Mary looks out at the people. Yet, there is no doubt that she is intimately united to her Divine Son.
The origin of the ancient Marian icon, Our Lady of Vladimir, can be traced back to 1125. The oldest known representation of Our Lady of Vladimir was commissioned in Constantinople by a Russian, who then had the painting taken from city to city during the period of united Ukranian-Russian history. In 1169, Duke Andrej Bogoljubskij had the icon brought from Kiev to the new cathedral of Vladimir. Due to the honor and reverence of the people, who attributed gracious assistance to Our Lady's help throughout the Ukraine, a large cathedral was built for her in Vladimir.
When the Mongol invasion threatened Moscow in 1395, the original icon was brought to Moscow, where she was honored as the unconquerable shield of the Russian people. Important state transactions took place before her image; her blessing was sought before battle. In time, Our Lady of Vladimir became the sign of the Russian Orthodox Church. More
Vladimir is a city in Russia and the administrative center of the oblast Vladimir. Vladimir is part of the Golden Ring of ancient Russia around Moscow.