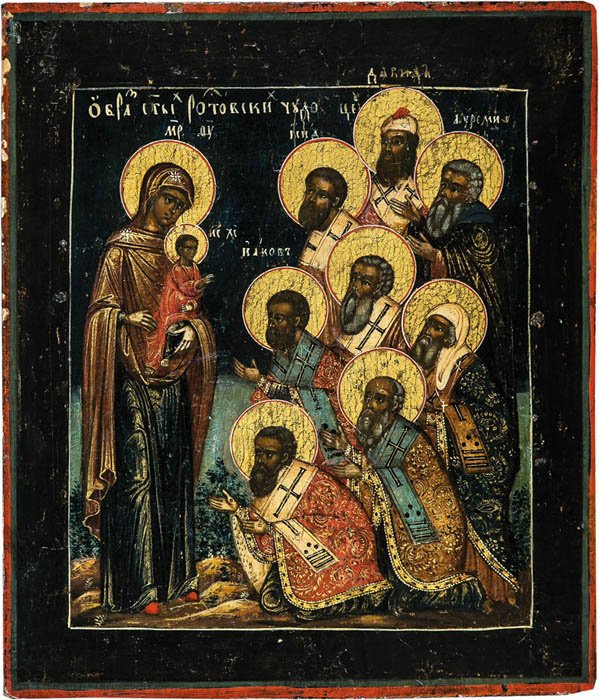 Our Lady of Rostov Russia, early 18th century. Softwood single table with two top-side Sponki. Egg tempera on gesso. On the left side full-length depiction of the Virgin Mary, holding the Christ Child in her arms. To the right, Eight Saints Represented full-length in the Episcopal vestments making a gesture of supplication included Isaiah, Leontius and Ignatius. 31 x 27 cm.
Rostov is a town in Yaroslavl Oblast, Russia, one of the oldest in the country. It is located on the shores of Lake Nero
Saint Isaiah of Rostov (fl. 1062 – died 1089 or 1090) was a Russian Christian missionary and bishop. Isaiah was born near Kiev. He was tonsured at Kiev Pechersk Lavra, and became abbot of Saint Dmitry's Monastery. In 1077, he became the second bishop of Rostov. As Christianity was not yet well established in the area, he spent his tenure converting pagans, destroying idolatry and encouraging the spread of Christianity.
St Leontius the Bishop and Wonderworker of Rostov. A Greek from Constantinopole, Leontius became a monk at the famous Monastery of Caves in Kiev (Ukraine). He was first monk of this house to become a bishop when he was appointed to Rostov (Yaroslavsk) in 1501. Although persecuted by the pagans, he became their apostle. Reputed to have had a gift of miracles, he did not escape death at their hands; however, this was from the ill-treatment he received rather than by formal sence of death. Leontius was the first martyr who was also a priest (heiromartyr).
St Ignatius the Bishop and Wonderworker of Rostov. Saint Ignatius was Bishop of Rostov, and shepherded his flock for twenty-six years. After his death on May 28, 1288, his body was broght to the church. Some people saw him leave his coffin, and float in the air above the church. He blessed the people and the city, then went back to his coffin.