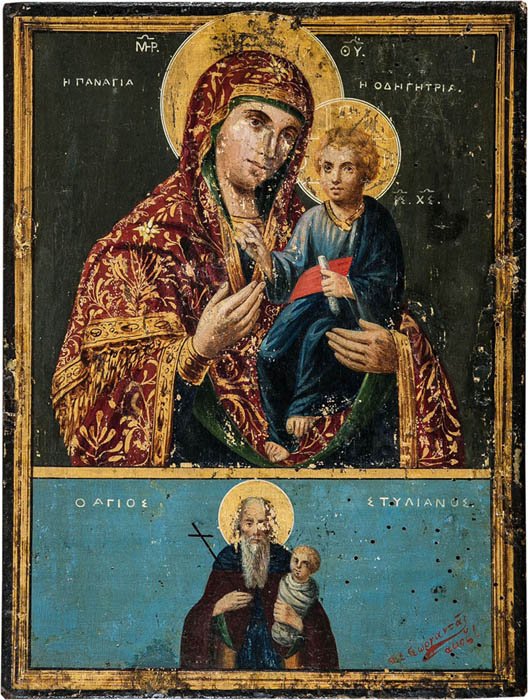 Signed two fields icon, Balkan, dated. 1877 Walnut board with two back side Sponkis. TeA signed icon painted in two registermpera on gesso. The upper frame shows the Hodegetria. The Blessed Mother in half figure carries the Christ child in her left arm. With her ​​right hand she has her son, who holds a scroll, he raises his right hand in a blessing gesture. The maphorion of the Mother of God is rich with Chrysographie. In the lower frame half-length depiction of the Saint Stylianos of Paphlagonians, the patron saint of children. Signed '' Georgantas (?) '' And dated. Berieben. 34.5 x 26 cm.
Maphorion: a garment covering the head and shoulders, mentioned in papyri of the 4th–6th Century
Chrysographie: a technique used in manuscripts, letters, or painted objects (crowns, nimbuses) where a gold tincture has been designed. In the early Middle Ages were also writings held exclusively in gold letters in both the Byzantine and the Western culture. These fonts are also called Codex Aureus . In the High Middle Ages, the use of gold was reduced and limited mostly to larger initials.
Saint Stylianos was born during the 6th century in Adrianopolis (in modern day Turkey) into a very wealthy family. At a young age, Stylianos joined the hermits of the desert with a view toward cleansing his soul and pledging his life to Jesus Christ. Unlike most other hermits, however, he did not withdraw from society altogether, preferring to occasionally go among the people for whatever good he might do.
According to the church tradition, one night while he prayed, Stylianos felt a divine presence of the Holy Spirit. The next day, with a spirit of exultation and serenity he had never known before, he started his customary rounds, wherein he counselled and comforted, he felt compelled to place his hand on a stricken child, something he had not up to that time dared to do; he felt the power of the Lord being transferred to the ailing youngster through his extended arm. The child immediately recovered, and thenceforth Stylianos was sought after by every suffering soul for miles around, young and old. His cave became a magnet for the sick and suffering, many of whom received complete cures.
During this period, Stylianos concerned himself primarily with children, not just the physically afflicted but also with those who were in need of spiritual guidance. Families from all walks of life were said to have entrusted to Stylianos the enlightenment of their children, and he was forced to seek out larger headquarters and to recruit from the ranks of his hermit friends the assistance needed to tend to so many. His was probably the first day-care centre in the world, where mothers could safely leave their children while tending to other matters of the home.
Stylianos was to become the patron saint of children yet to be born, owing to stories of his miraculous intercession for a young woman who helped him with children but could bear none of her own. When the woman conceived, her husband out of sheer joy spread the word of this miracle, and before long many barren women came to the great hermit.
More