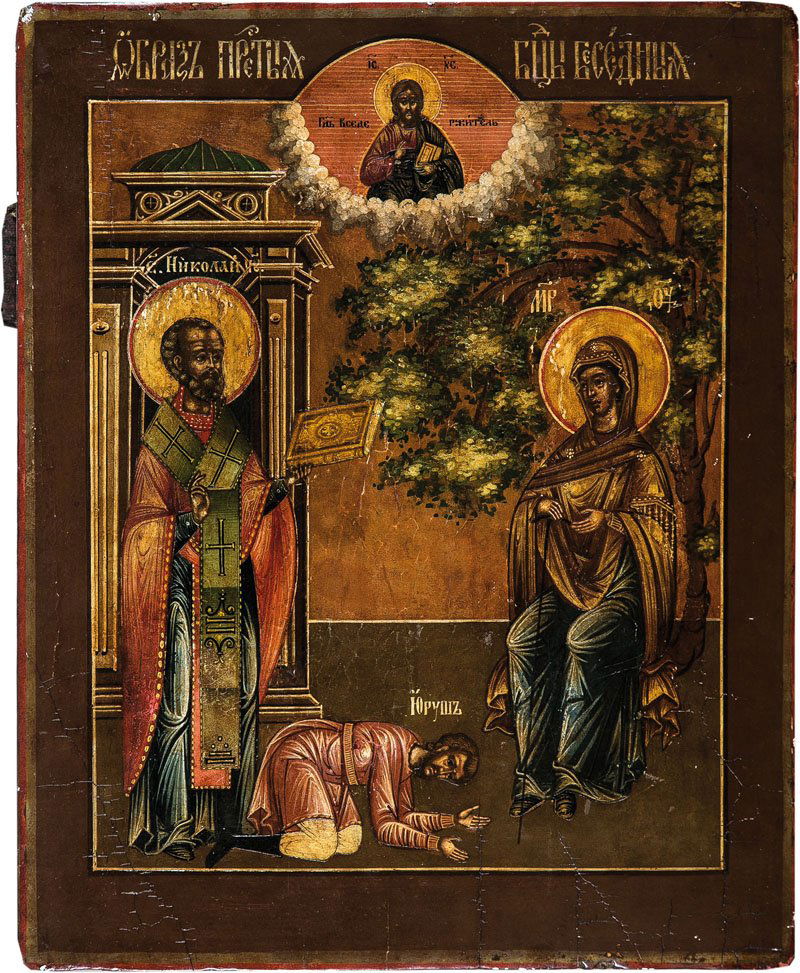 The Besadnaja Mother of God. Russia, 18th century. Hardwood single board with two back side Sponki. Tempera on gesso, Konturritzungen. In the right frame, the Mother of God is depicted sitting in front of a tree. Before her kneels Jurij. Behind him is the blessing Nicholas, stretches of the Gospel toward the Mother of God, in front of an architectural backdrop. God the Father appears on a cloud bank at the top of the screen. Verso Cyrillic inscriptions. 30.5 x 25.5 cm
Sveti Jurij is a village in the Municipality of Grosuplje in central Slovenia. The area is part of the historical region of Lower Carniola.
Sveti Jurij is also known locally as Šent Jurij (Št. Jurij).
The name of the settlement was changed from Sveti Jurij pri Grosupljem (literally,
'Saint George near Grosuplje
') to Podtabor pri Grosupljem (literally, 'below the fort near Grosuplje') in 1952. The name was changed on the basis of the 1948 Law on Names of Settlements and Designations of Squares, Streets, and Buildings as part of efforts by Slovenia's postwar communist government to remove religious elements from toponyms. The name Sveti Jurij was restored in 1992.
More
Saint Nicholas
; also called Nikolaos of Myra, was a historic 4th-century Christian saint and Greek Bishop of Myra, in Asia Minor. Because of the many miracles attributed to his intercession, he is also known as Nikolaos the Wonderworker.
More