SIR LAWRENCE ALMA-TADEMA, BRITISH, BORN NETHERLANDS, 1836–1912
THE WOMEN OF AMPHISSA, c. 1887
Oil on canvas
48 1/4 x 72 1/2 in. (122.5 x 184.2 cm)
The Clark Institute
Followers of Bacchus, the god of wine, awaken in the marketplace of Amphissa, Greece, where they have wandered from their home in Phocis during a night of ritual dancing. Amphissa and Phocis are at war, but the women of Amphissa graciously offer the bacchantes nourishment and protection. The painting illustrates an event recorded by the Greek historian Plutarch, which Alma-Tadema staged as a lesson in charity for his Victorian audience. More
Alma-Tadema met his second wife, Laura, when she was only seventeen years old, and apparently fell in love with her at first sight. Although he used the outbreak of the Franco-Prussian War as a pretence to move to England, it is thought that he actually moved to London to be closer to Laura. Upon his arrival, he contracted with Laura for private art lessons, and thereafter asked her to marry him. Although her father originally refused due to their age difference (she was 18, he was 34), he relented on the condition that the two got to know each other first. Apparently the match was good, as they stayed married for the rest of their lives. Alma-Tadema used his wife, Laura Therese Alma-Tadema, who was a painter in her own right, as a model in many of his paintings, The Women of Amphissa of which is the most prominent example. More
Sir Lawrence Alma-Tadema, (born January 8, 1836, Dronrijp, Netherlands—died June 25, 1912, Wiesbaden, Germany), Dutch-born painter of scenes from everyday life in the ancient world whose work was immensely popular in its time.
Alma-Tadema, the son of a Dutch notary, studied art at the Antwerp Academy (1852–58) under the Belgian historical painter Hendrik Leys, assisting the painter in 1859 with frescoes for the Stadhuis (town hall) in Antwerp. During a visit to Italy in 1863, Alma-Tadema became interested in Greek and Roman antiquity and Egyptian archaeology, and afterward he depicted imagery almost exclusively from those sources. Moving to England, he became a naturalized British subject in 1873 and was elected a member of the Royal Academy in 1879. He was knighted in 1899.
Alma-Tadema excelled at the accurate re-creation of ancient architecture and costumes and the precise depiction of textures of marble, bronze, and silk. His expert rendering of settings provides a backdrop for anecdotal scenes set in the ancient world. Alma-Tadema's wife, Laura Epps, was also a painter. More
SIR LAWRENCE ALMA-TADEMA, BRITISH, BORN NETHERLANDS, 1836–1912
In the Tepidarium, c. 1881
Oil on panel
24 x 33cm
Lady Lever Art Gallery, Port Sunlight, United Kingdom
The tepidarium was the warm Roman bath. This painting shows a girl holding an ostrich feather and a strigil used for scraping the skin after soaping and oiling it. Alma-Tadema generally contrasted archaeologically accurate detail with aggressively modern figures and attitudes. He was also the most gifted exponent among Victorian painters in rendering exactly textures, surfaces and colours. More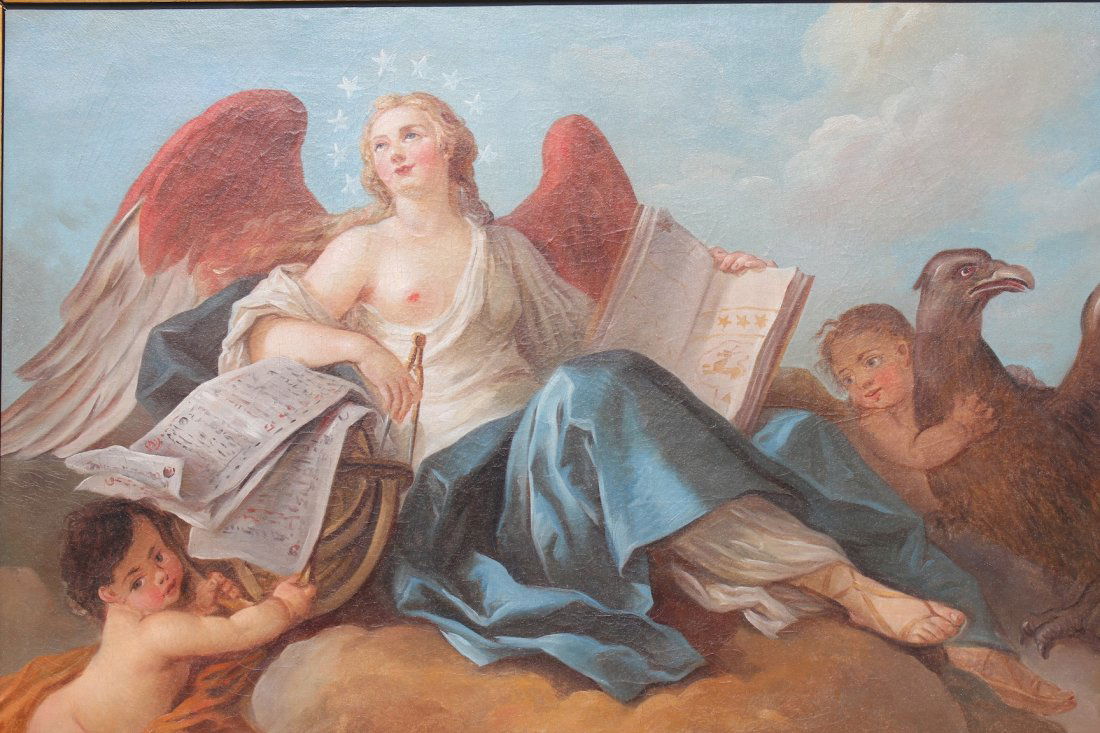 French School
Ourania muse/goddess of astronomy & astrology, circa 1790
Oil on Canvas
26" x 32"
OURANIA (or Urania) was one of the nine Mousai (Muses), the goddesses of music, song and dance. In Classical times she Ourania came to be titled the muse of astronomy and astronomical writings. In this guise she was depicted pointing to a globe with a rod.
Aphrodite Urania was an epithet of the Greek goddess Aphrodite, signifying "heavenly" or "spiritual", to distinguish her from her more earthly aspect of Aphrodite Pandemos, "Aphrodite for all the people". The two were used to differentiate the more "celestial" love of body and soul from purely physical lust. Plato represented her as a daughter of the Greek god Uranus, conceived and born without a mother. According to Herodotus, the Arabs called this aspect of the goddess "Alitta" or "Alilat". More
Charles Joseph Natoire
Baccanale, circa 1780
40.6 x 50.8 centimeters 16" x 20" inches
Charles-Joseph Natoire (3 March 1700 – 23 August 1777) was a French painter in the Rococo manner, a pupil of François Lemoyne and director of the French Academy in Rome, 1751-1775. Considered during his lifetime the equal of François Boucher, he played a prominent role in the artistic life of France.
Initially trained by his father, a sculptor, Charles-Joseph Natoire moved to Paris at the age of seventeen to apprentice with the painter Louis Galloche. He then studied with Francois Le Moyne, from whom he inherited a taste for the female nude. Natoire's first known painting, Manoah Offering a Sacrifice to the Lord, won him the coveted Prix de Rome in 1721. While at the Académie de France in Rome, he was recognized for his superb draftsmanship, received commissions from important patrons, and was awarded first prize from the Accademia di San Luca. Natoire returned to Paris in 1730, and four years later was received as a full member of the Académie Royale.
Natoire's popularity spread immediately upon his return from Rome, when he was commissioned by the Directeur-Général des Bâtiments to execute an extensive decorative scheme for the Château de La Chapelle-Godefroy. Natoire spent nine years working on the paintings for this château. From 1737 to 1739, Natoire, along with Carle Vanloo, Pierre-Charles Trémolièrs, and Francois Boucher, collaborated with the architect Germain Boffrand on the restoration of the Hôtel de Soubise in Paris, which now houses the French national archives. Natoire's eight paintings illustrating the Story of Psychedecorated the Hôtel's oval Salon de la Princesse. In 1751 Natoire returned to Italy, after accepting the position of director of the Académie de France in Rome. Although he continued to receive commissions for paintings, in later years his artistic energy was focused on drawing and on teaching students such as Hubert Robert and Jean-Honore Fragonard. More
FRANCKEN, FRANS II. AND FRANCKEN, HIERONYMUS II.
Antwerp 1581 - 1642, 1578-1623
Victory Parade of Bacchus.
Monogrammed on the hind leg of the donkey: I.F
Bacchus, garlanded with vine leaves, is sitting on a carriage which is drawn by a donkey. He is surrounded by his entourage and together they make a long victory parade up the mountain heading for a temple.
Frans Francken the Younger (Antwerp, 1581 – Antwerp, 6 May 1642) was a Flemish painter and the best-known member of the large Francken family of artists. He played an important role in the development of Flemish art in the first half of the 17th century through his innovations in genre painting and introduction of new subject matter. More
POELENBURG, CORNELIS VAN
Utrecht 1586 - 1667 - school
Venus and Adonis with Cupid boy.
Oil on wood. 33 x 24,5cm.
Monogrammed lower right: C. V(alloyed)F.
Venus and Adonis is a poem by William Shakespeare, written in 1592–1593, with a plot based on passages from Ovid's Metamorphoses. It is a complex, kaleidoscopic work, using constantly shifting tone and perspective to present contrasting views of the nature of love.
Ovid told of how Venus took the beautiful Adonis as her first mortal lover. They were long-time companions, with the goddess hunting alongside her lover. She warns him of the tale of Atalanta and Hippomenes to dissuade him from hunting dangerous animals; he disregards the warning, and is killed by a boar. More
Cornelis van Poelenburgh (1594 – 12 August 1667), was a Dutch Golden Age landscape painter. Though his birthplace is unknown, a signed document survives in Utrecht where he is listed as six years old and the son of Simon van Poelenburch, a Catholic canon in Utrecht. He initially trained with Abraham Bloemaert, and his earliest signed paintings are from 1620. He traveled to Rome where he was influenced by Adam Elsheimer and became a founding member of the Bentvueghels. He counted a few cardinals under his patrons, and was called to England by Charles I of England, for whom he made small cabinet pieces. He returned to Utrecht where he later died just a few years after his old teacher Abraham Bloemaert. He painted mostly small landscapes with mythical or religious figures or passages, in a style that would later be evident in some of the works of Claude Lorraine.
More
Titian, Tiziano Vecelli; Tiziano Vecellio (1490–1576)
Venus and Adonis, c. 1554
Oil on canvas
186 × 207 cm (73.2 × 81.5 in)
Prado Museum
Tiziano Vecelli or Tiziano Vecellio; c. 1488/1490 – 27 August 1576), known in English as Titian, was an Italian painter, the most important member of the 16th-century Venetian school. He was born in Pieve di Cadore, near Belluno (in Veneto, Republic of Venice). During his lifetime he was often called da Cadore, taken from the place of his birth.
Recognized by his contemporaries as "The Sun Amidst Small Stars", Titian was one of the most versatile of Italian painters, equally adept with portraits, landscape backgrounds, and mythological and religious subjects. His painting methods, particularly in the application and use of color, would exercise a profound influence not only on painters of the Italian Renaissance, but on future generations of Western art.
During the course of his long life, Titian's artistic manner changed drastically, but he retained a lifelong interest in color. Although his mature works may not contain the vivid, luminous tints of his early pieces, their loose brushwork and subtlety of tone are without precedent in the history of Western painting. More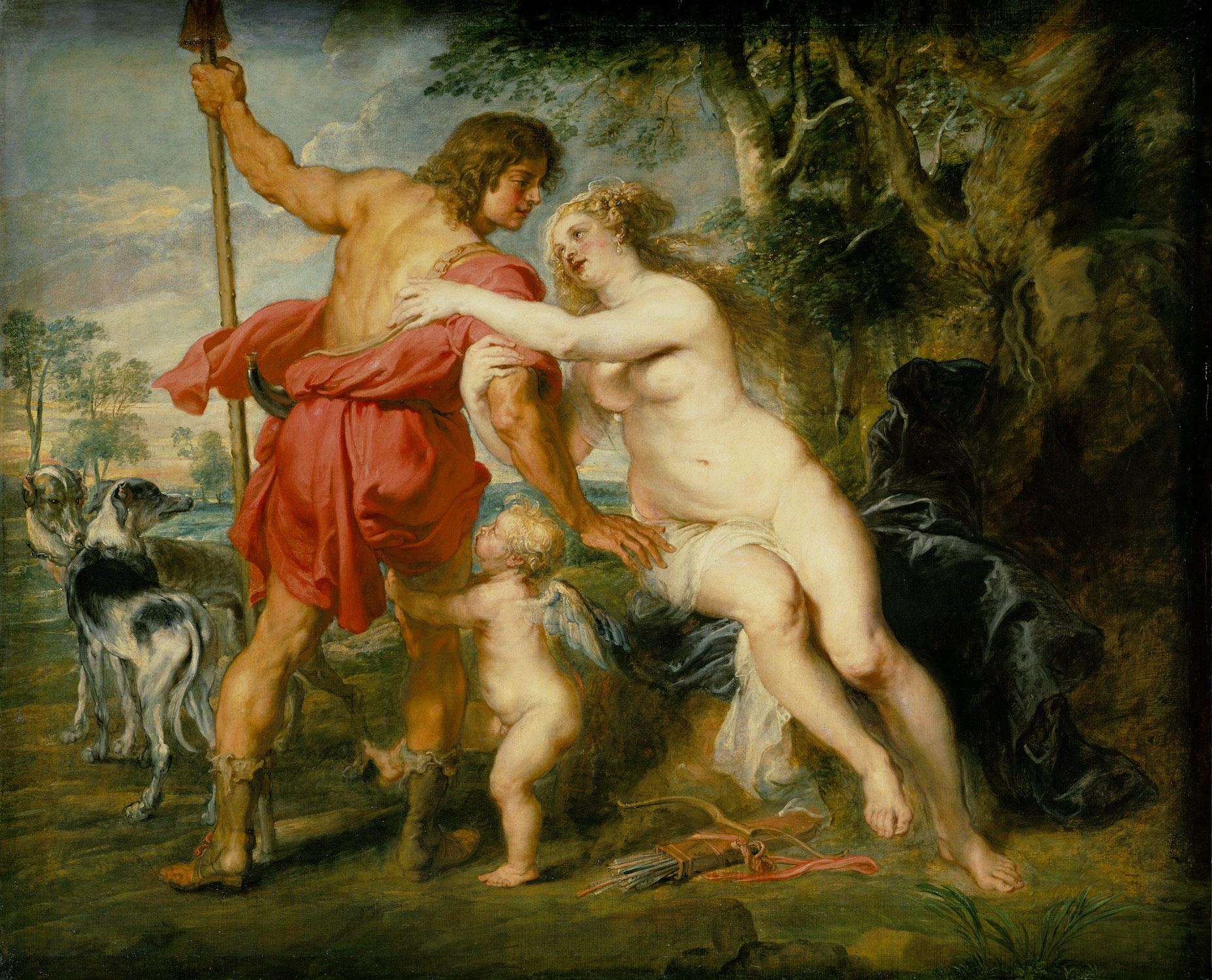 Peter Paul Rubens (Flemish, Siegen 1577–1640 Antwerp)
Venus and Adonis, mid-1630s
Oil on canvas
77 3/4 x 95 5/8 in. (197.5 x 242.9 cm
The Metropolitan Museum of Art
Sir Peter Paul Rubens; 28 June 1577 – 30 May 1640) was a Flemish Baroque painter. A proponent of an extravagant Baroque style that emphasized movement, colour, and sensuality, Rubens is well known for his Counter-Reformation altarpieces, portraits, landscapes, and history paintings of mythological and allegorical subjects.
In addition to running a large studio in Antwerp that produced paintings popular with nobility and art collectors throughout Europe, Rubens was a classically educated humanist scholar and diplomat who was knighted by both Philip IV of Spain and Charles I of England. More
Pierre-Paul Prud'hon (1758–1823)
Venus und Adonis, circa 1800
Oil on canvas
172 × 245 cm (67.7 × 96.5 in)
Wallace Collection, London
Pierre-Paul Prud'hon (April 4, 1758 – February 16, 1823) was a French Romantic painter and draughtsman best known for his allegorical paintings and portraits.
Pierre-Paul Prud'hon was born in Cluny, Saône-et-Loire. He received his artistic training in the French provinces and went to Italy when he was twenty-six years old to continue his education. On his return to Paris, he decorated some private mansions and his work for wealthy Parisians led him to be held in high esteem at Napoleon's court.
His painting of Josephine portrays her, not as an Empress but as a lovely attractive woman which led some to think that he might have been in love with her. After the divorce of Napoleon and Josephine, he was also employed by Napoleon' s second wife Marie-Louise.
Prud'hon was at times clearly influenced by Neo-classicism, at other times by Romanticism. Appreciated by other artists and writers like Stendhal, Delacroix, Millet and Baudelaire for his chiaroscuro and convincing realism, he is probably most famous for his Crucifixion (1822), which he painted for St. Etienne's Cathedral in Metz. Crucifixion now hangs in the Louvre. More
Titian,
Mars, God of War, c.1640
oil on canvas
179 x 95 cm
Museo del Prado, Madrid
In ancient Roman religion and myth, Mars was the god of war and also an agricultural guardian, a combination characteristic of early Rome. He was second in importance only to Jupiter and he was the most prominent of the military gods in the religion of the Roman army. Most of his festivals were held in March, the month named for him, and in October, which began the season for military campaigning and ended the season for farming.
Under the influence of Greek culture, Mars was identified with the Greek god Ares, whose myths were reinterpreted in Roman literature and art under the name of Mars. But the character and dignity of Mars differed in fundamental ways from that of his Greek counterpart, who is often treated with contempt and revulsion in Greek literature. Mars was a part of the Archaic Triad along with Jupiter and Quirinus, the latter of whom as a guardian of the Roman people had no Greek equivalent. More
Diego Rodríguez de Silva y Velázquez; (baptized on June 6, 1599 – August 6, 1660) was a Spanish painter who was the leading artist in the court of King Philip IV and one of the most important painters of the Spanish Golden Age. He was an individualistic artist of the contemporary Baroque period, important as a portrait artist. In addition to numerous renditions of scenes of historical and cultural significance, he painted scores of portraits of the Spanish royal family, other notable European figures, and commoners, culminating in the production of his masterpiece Las Meninas (1656).
From the first quarter of the nineteenth century, Velázquez's artwork was a model for the realist and impressionist painters, in particular Édouard Manet. Since that time, famous modern artists, including Pablo Picasso, Salvador Dalí and Francis Bacon, have paid tribute to Velázquez by recreating several of his most famous works. More
Titian, Tiziano Vecelli; Tiziano Vecellio (1490–1576)
Venere di Urbino, Venus of Urbino, c. 1538
Oil on canvas
Height: 119.2 cm (46.9 in). Width: 165.5 cm (65.2 in).
Uffizi Gal
lery,

Florence, Italy
The Venus of Urbino is a 1538 oil painting by the Italian master Titian. It depicts a nude young woman, identified with the goddess Venus, reclining on a couch or bed in the sumptuous surroundings of a Renaissance palace. It hangs in the Galleria degli Uffizi in Florence. The figure's pose is based on Giorgione's Sleeping Venus (c. 1510) see beloe, which Titian completed. In this depiction, Titian has domesticated Venus by moving her to an indoor setting, engaging her with the viewer, and making her sensuality explicit. Devoid as it is of any classical or allegorical trappings – Venus displays none of the attributes of the goddess she is supposed to represent – the painting is unapologetically erotic. More
Tiziano Vecelli or Tiziano Vecellio; c. 1488/1490 – 27 August 1576)
, See above.
Giorgione (1477–1510)
Sleeping Venus, c. 1508-10
108.5 × 175 cm (42.7 × 68.9 in)
Gemäldegalerie Alte Meister,
Dresden, Germany
Although nude figures (such as Botticelli's "Birth of Venus") had been painted before this one, this is probably the first nude to show a figure simply as a depiction of a nude. It is named "Venus" but has no traditional attributes (such as Cupid) to indicate that it represents a goddess. It was a break from tradition, and set a new subject for the artist, resulting in 20th century works such as the nudes of Francis Bacon and Henry Moore. More
Although nude figures (such as Botticelli's "Birth of Venus") had been painted before this one, this is probably the first nude to show a figure simply as a depiction of a nude. It is named "Venus" but has no traditional attributes (such as Cupid) to indicate that it represents a goddess. It was a break from tradition, and set a new subject for the artist, resulting in 20th century works such as the nudes of Francis Bacon and Henry Moore.
Giorgione; born Giorgio Barbarelli da Castelfranco; c. 1477/8–1510) was an Italian painter of the Venetian school in the High Renaissance from Venice, whose career was cut off by his death at a little over 30. Giorgione is known for the elusive poetic quality of his work, though only about six surviving paintings are acknowledged for certain to be his work. The resulting uncertainty about the identity and meaning of his art has made Giorgione one of the most mysterious figures in European painting.
Together with Titian, who was slightly younger, he is the founder of the distinctive Venetian school of Italian Renaissance painting, which achieves much of its effect through colour and mood, and is traditionally contrasted with the reliance on the more linear disegno-led style of Florentine painting.
More
VENNE, ADRIAEN PIETERSZ. VAN DE
1589 Delft - 1662 The Hague - circle
Cupid on the Ice.
Cupid

on the Ice. In the background courtly couple. Below a Dutch epigraph. Oil on copper

.
Adriaen Pietersz van de Venne (1589 – 12 November 1662), was a versatile Dutch Golden Age painter of allegories, genre subjects and portraits, as well as a miniaturist, book-illustrator and designer of political satires and a versifier. He was born in Delft and learned to paint from the master goldsmith and painter Simon de Valk, and afterwards learned engraving from Jeronimus van Diest, a good painter of grisailles. He then moved to Middelburg in 1614 where he was influenced by Jan Brueghel the Elder and Pieter Brueghel the Elder. His political painting Fishers of men"", 1614, is an ironic commentary on the Catholic and Protestant troubles of the Eighty Years War that split the border between the Northern from the Southern Netherlands along the Schelde river, very close to his home in Middleburg. When he painted this picture, the Twelve Years' Truce was in effect since 1609. The influence of Jan Brueghel the Elder is particularly evident in this allegory of religious fanaticism.
From 1620 until his death van de Venne made many grisailles and engravings of genre subjects, featuring peasants, beggars, thieves and fools as illustrations of current proverbs and sayings, mostly by Jacob Cats. This work made him famous during his lifetime, and remained popular throughout the 18th century after his death.
Van de Venne also worked as a book illustrator and print designer. Van de Venne moved to The Hague and joined the Guild of Saint Luke in 1625, taking the position of dean in 1637. He was a founding member of Confrerie Pictura, a group bent on improving the independent status and social position of the artist in Dutch society by encouraging a more academic approach to the arts. He died in The Hague. More
MARR, CARL VON
1858 Milwaukee - 1936 Munich
"The Pace of Time".
Signed lower left: Carl / Marr / Mnchn.
Cronus as a winged and dark shape towering over everything, with scythe and hourglass, amongst a journey of naked men and women that are striding towards the end (of their time?). Heaven is so low over the mountain plateau that the angels are able to grab the hourglass of Cronus with their hands. Still it is a bright summer's day, the heaven is blue, the angels are hovering, floating, coming out of the light, around the track of laden people - in the distance, over a green, cypress-covered hill, is a bright blue iridescent landscape.
In Greek mythology, Cronus was the leader and youngest of the first generation of Titans, the divine descendants of Uranus, the sky, and Gaia, the earth. He overthrew his father and ruled during the mythological Golden Age, until he was overthrown by his own son Zeus and imprisoned in Tartarus. More
Carl von Marr (February 14, 1858 – July 10, 1936) was an American-born German painter. He was born at Milwaukee, Wisconsin, the son of the engraver John Marr.
His first work, Ahasuerus, the Wandering Jew, received a medal in Munich. One of his pictures, Episode of 1813, was (as of 1911) in the Royal Hanover Gallery. In 1906, in Germany, he received a gold medal in Munich, and was in the Prussian Royal Academy at Königsberg. A large canvas, The Flagellants, painted in 1889, is now in the collection of the Museum of Wisconsin Art, in West Bend, WI, on permanent loan from the City of Milwaukee. The painting and the Pieta - Mary Louise Schumacher: Art City. It received a gold medal at the Munich Exposition in 1889, a gold medal at the International Exhibition, Berlin in 1890 and a gold medal at the Columbian Exposition, Chicago World's Fair in 1893. Another canvas, Summer Afternoon, originally from the Phoebe Hearst collection, in 1911 in the permanent collection of the University of California, Berkeley, received a gold medal in Berlin, in 1892.
In 1917, Marr was appointed a privy councilor to the Bavarian government. He was forced to flee to Switzerland during the Bavarian Council Republic, which put a price on his head because of this political connection. In 1919, Marr became the director of the Royal Academy in Munich, where he continued to work until his retirement in 1923. Marr died on 10 July 1936 and is buried at the Solln Cemetery in Munich. More
MARR, CARL VON
1858 Milwaukee - 1936 Munich
"The Judgement of Paris".
Signed lower left: Carl / Marr.
At the time the wedding of Peleus and Thetis, the hero and the sea-goddess, was being celebrated on Mount Pelion, all the gods and goddesses were invited, with the noted exception of Eris, the Goddess of Strife, who was hideous and disagreeable. Angered at being left out of the nuptuals she strode into the middle of the wedding feast and threw a golden apple into the assembled company. It landed between the three most powerful goddesses, Hera, Athene and Aphrodite. Picking it up, Zeus found it was inscribed 'For the Fairest'. Wisely deciding not to judge between the three deities himself, Zeus nominated the beautiful Paris as arbiter, but first he sent Hermes to enquire whether he would be willing to act as judge. Paris agreed and so a time was set for the three goddesses to appear to him on Mount Ida. More